Lowrance Ghost Trolling Motor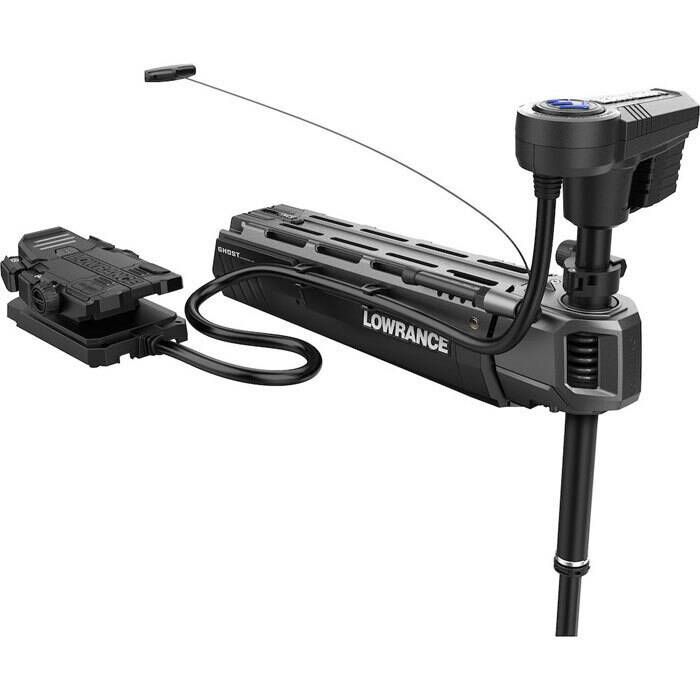 Lowrance Ghost Trolling Motor
Item # 873694
Description
Reliable, rugged and built to last, the new ultra-quiet Lowrance® Ghost™ freshwater trolling motor lets anglers fish longer, run faster and move in closer without spooking fish.
Features:
Total Integration with HDS LIVE, HDS Carbon and Elite Ti 2
Dual-action gas spring that makes stowing and deploying the motor easier and quieter
360-Degree breakaway mount is designed to absorb impact, allowing the shaft to deflect away from obstructions and then reposition itself after impact
Designed to work with either 24- or 36-Volt systems, making it compatible with any set-up and easier to implement future upgrades to batteries and chargers
Quiet brushless motors that emits zero electromagnetic interference; ensuring the clearest, interference-free sonar views on your fish finder display
Configure the Ghost pedal to suit your preferences via programmable shortcut buttons

Flip Switch that allows the trolling motor to be driven from either side of the pedal

Instant and smooth fly-by-wire steering control gives Ghost the feel of a traditional cable-steer motor, but without the physical cables that wear out over times
Packaged with an HDI nosecone transducer, giving you the high-level performance of Lowrance CHIRP sonar and DownScan Imaging™ right out of the box
Motor Specifications:
Select shaft length
Usages: Freshwater use only
Mounting location: Bow
Mount style: Scissor style mount
360 Degree breakaway: Yes
Max thrust: 120 lbs @ 36V; 97 lbs @ 24V
Voltage: 24V or 36V
Steering: Fly-by Wire steering
Lift-assist: Dual action gas spring
Compass: External and included
GPS: Internal
Factory warranty: 3 years. Warranty Begins on Date of Purchase.
Sonar:
Included: HDI Sonar nosecone
Frequencies supported: Medium / High CHIRP Sonar, 455/800 kHz
User upgradeable sonar: Active imaging 3-in-1
Depth / temperature: Yes
Number of pins: Mini 9-pin to 9-pin Lowrance adapter included
Autopilot:
Custom routes: Yes
Anchor lock: Yes
Heading lock: Yes
Constant on: Yes
Turn patterns: Yes
Foot Pedal:
Dimensions: 11-3/4" L, 7-1/4" W, 4-1/2"
Flipswitch: Yes
Programmable shortcut keys: Yes
Waterproof rating: IPX7
Part Numbers for Lowrance Ghost Trolling Motor