Lonseal 650 Epoxy Adhesive - ZAD6501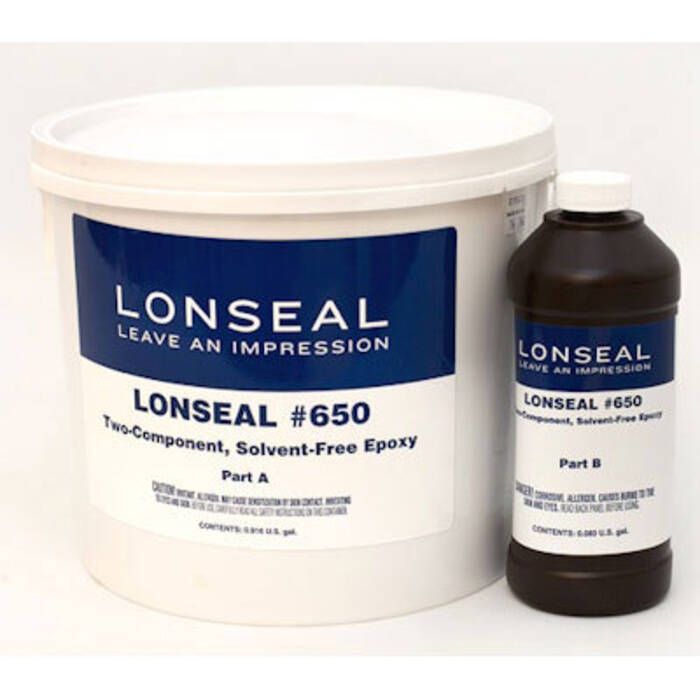 Lonseal 650 Epoxy Adhesive - ZAD6501
Item # 873645
Description
Lonseal 650 Epoxy Adhesive is a wet set adhesive that is formulated for high performance installation of Lonseal flooring.
Features:
Wet set adhesive
CRI Green Label Plus Certified #GLP59909
Applications:

Properly prepared, non-porous substrates and existing vinyl floors
Locations with temperature extremes, such as saunas, cold-storage, or walk-in freezers
Areas where flooding is possible, including around drains, shower areas, public bathrooms, pool/whirlpool aprons, or laundry rooms
Areas expecting heavy point loading or heavy/dynamic rolling loads, like hospital beds
Can be used on properly prepared, non-porous substrates and existing vinyl floors
Specifications:
Color: Beige
Solids: 100%
VOC: 10 g/L (mixture)
Part A: 916 U.S. gal
Part B: .083 U.S. gal

Part A bucket size is approximately 1.5 U.S. gallons
When Part A and B are combined the bucket will appear to be approximately 2/3 full

Wt. /Gal.: 11.6 lbs/gal
Shelf Life: 1 Year, When stored unopened
Storage Conditions: 70 ° F 85 & (21.1 ° C 29.4 &)

Keep dry and out of direct sunlight in a well-ventilated area

Application Conditions: 70 & 85 & (21.1 & 29.4 &)
Container Size: 1 gal
Approx. Coverage Area: 170-225 Square Feet
Concrete Requirements: 5 lbs/1,000 ft2/24 h max. MVER; 75% max. RH; 9 pH max
Application Information:
Adhesive must be applied by a trowel with 1/16" x 1/32" x 1/32" U-Notches (Model ZZ800 Trowel Sold Separately). These specs are specifically recommended by the adhesive MFG. If applied incorrectly the flooring will not lay properly
Approx. Spread rate: 170 - 225 sq.'/gal
Open time: Up to 15 minutes
Working time: Up to 15 minutes
Notes: Trowel sizes listed are by width/depth/space. All information provided above will vary depending on the job site conditions, including temperature, humidity, substrate porosity, and applicator.
Actual job site spread rate will vary depending on the substrate conditions.
OPEN TIME: Waiting time required before placing the flooring material into the adhesive.
WORKING TIME: Amount of time for the adhesive to accept the flooring material after being applied to the substrate.
Part Numbers for Lonseal 650 Epoxy Adhesive - ZAD6501