Lofrans Royal Horizontal Manual Windlass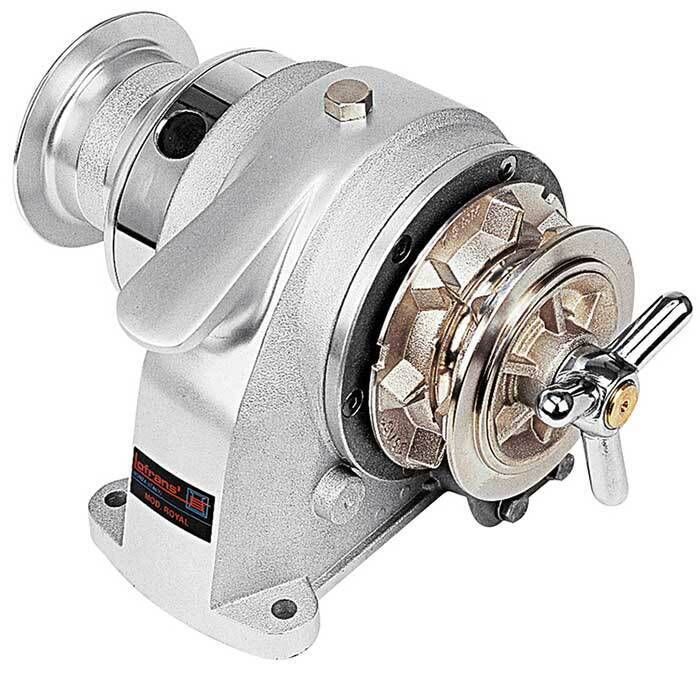 Lofrans Royal Horizontal Manual Windlass
Item # 873557
Description
Lofrans Royal Horizontal Manual Windlass - a simple and inexpensive way to add better anchor handling to any boat. Double-action operation makes bringing in the anchor rode a quick and easy job.
Features:
Manually operated (by included handle) windlass with separate rope capstan and chainwheel
Finished in polished anodized coating for added protection
Unique aluminum collar design won't bind or corrode over years in saltwater environment
Rope capstan can be used independently of gypsy
Mount the chain wheel and capstan on either side of the on-deck housing
Standard Equipment:
Chainwheel & manual handle
Stainless steel operating lever with a comfortable rubber grip
Product Details:
Power rating: 430 lbs (196 kg)
Power supply: Manual, non-electric
Retrieval rate: One full stroke (forward and back motion combined) yields about 1' of chain
Chain size: 1/4"HT, 5/16"ALL, 3/8"ALL (ALL = HT, BBB and PC)
Note: Chain only gypsy (gypsy does not accept rope rode), Capstan accepts rope rode, Manual (human) powered
Note: The above chainwheels are designed to fit short link chain only; BBB, ISO spec, etc. to maximize the number of pockets and gripping. Chain is manufactured by many sources. It is critical to match the chain to the chainwheel, therefore please be careful when sizing. Defender only offers short link chain, BBB and ISO Spec. Do not use NACM spec chain as these have longer links and will not work in a windlass. Non-ISO chain sizes like NACM spec or miss-matching the chain and gypsy may allow the chain to skip in or jump from the gypsy pockets.
Part Numbers for Lofrans Royal Horizontal Manual Windlass