Liqui Moly Marine 4T SAE 25W-50 Motor Oil
$6.00 - $41.99
$4.00 - $41.99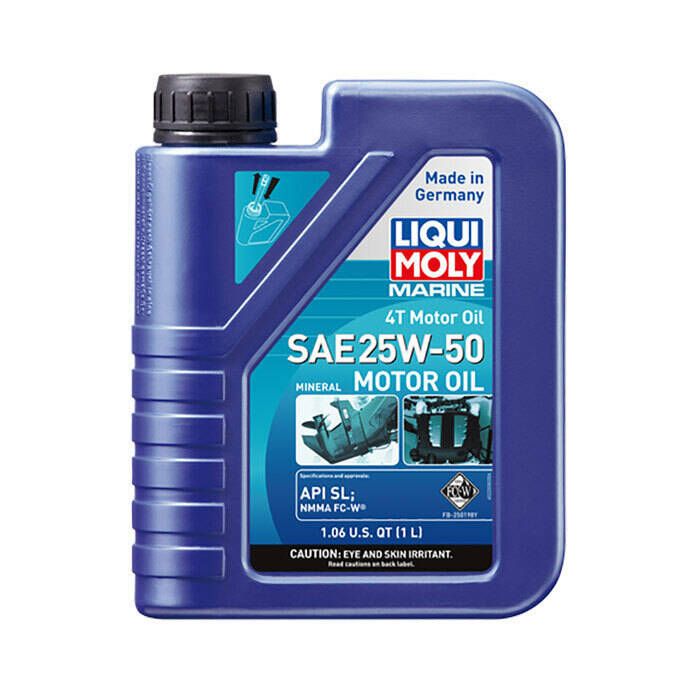 Liqui Moly Marine 4T SAE 25W-50 Motor Oil
Item # 873488
Description
Whether you're a motorboat driver, sailor or fishing enthusiast: LIQUI MOLY offers you a complete product range for the safe operation of diesel and gasoline motors – perfectly geared towards your maritime needs. Unique solutions, such as our highly effective biocide to fight diesel pest, ensure that you do not end up floundering on the water. All additives, motor oils, gear oils and greases, as well as service and care products from our MARINE product line deliver maximum benefits. So you're always excellently prepared when you set sail.
Liqui Moly's Marine 4T SAE 25W-50 Motor Oil is a heavy-duty, mineral based motor oil, formulated with specific marine additives.
Features:
Provides a stable lubricating film
Outstanding corrosion protection
Best wear protection in the most extreme conditions
Slows oil degradation and stabilizes viscosity
Maintains engine rubber seals for lowest possible oil consumption
Specifications:
SAE class: 25W-50
Density at 59° F: 0.880 g/cm³
Viscosity at 104° F: 200.0 mm²/s
Viscosity at 212° F: 20.0 mm²/s
Viscosity index: 115
HTH at 302° F: >=3.7 mPas
Pour point: -27° F
Evaporation loss: 4.6%
Flash point: 446° F
Total base number: 6.9 mg KOH/g
Sulfate ash: < 1.0 g/100g
Specifications and approvals: API SM, NMMA FC-W Catalyst Compatible®
Application: The operating instructions issued by the manufacturer of the engine or unit must be followed.
Areas of application: For 4-stroke gasoline engines, where a motor oil according to current product specifications is required or recommended. Suitable for Volvo Penta engines. Safe with catalytic converters and turbochargers.
Part Numbers for Liqui Moly Marine 4T SAE 25W-50 Motor Oil