Lifesling 2 Man Overboard Rescue System - 357634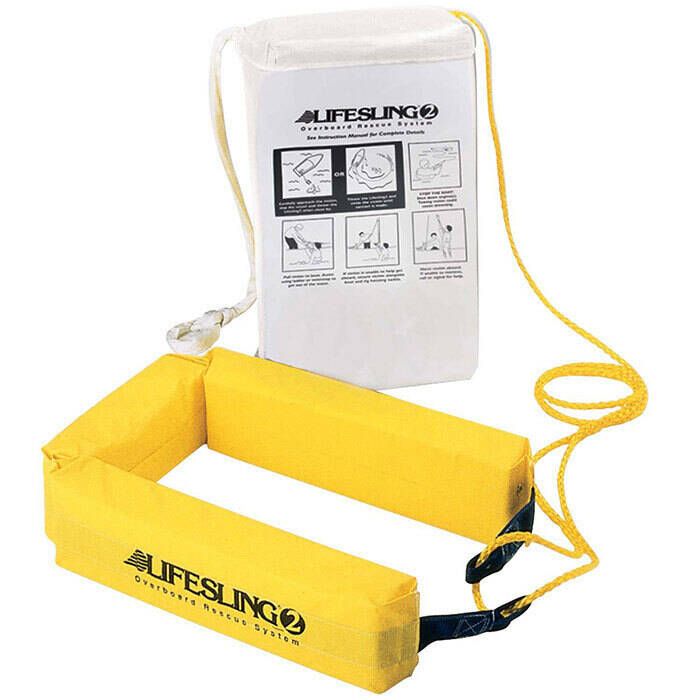 Lifesling 2 Man Overboard Rescue System - 357634
Item # 873474
Description
The Lifesling2 Man Overboard Rescue System is a popular system for getting an MOB safely back on board. Its straight forward design is easy to use, even by just one person. The combination of the floatation collar and 125' of floating line are easily stored in the included vinyl storage bag. Keep it attached in a convenient location for quick and easy deployment.
Features:
System includes flotation collar with 125 ft. floating retrieval line and protective storage bag
USCG Type V PFD substitutes for type IV throwable device (life ring or horseshoe buoy)
Simple and easy-to-use design popular on cruising and racing sailboats can be operated by a single crew member
Flotation collar connected to floating line can be thrown or towed to MOB
Can be used as lifting sling to hoist MOB aboard as necessary
Storage bag equipped with Velcro straps for mounting on rail or lifelines near helm
Instructions printed on outside of storage bag
1-year limited warranty
Specifications:
Color: Yellow (flotation collar and line) with white storage bag
Buoyancy: 21 lbs
Floating Retrieval Line Length: 125 ft.
Regulatory: UL and USCG approved
Dimensions (storage bag): 12-1/2" W x 22" H x 5" D
Note: Approved for use as lifting sling only on sailboats longer than 20 ft. LOA and powerboats with lifting point 10 ft. above water
Setting Up The Lifesling2:
Mount the Lifesling2 on a rail using the three Velcro straps attached to the bag to mount the bag inside of the stern railing or pulpit. For added strength, make sure to have the Velcro completely overlap each other. When installing the Lifesling2, tie and seize the nylon-covered end of the polypropylene retrieval to any strong point on board. Seizing is necessary to prevent knots in the Lifesling2 line from coming undone. TheLifesling2, similar to an anchor, will be useless if the end of the retrieval is not fastened to the boat! Do not remove the nylon cover. It is there to protect the polypropylene line from degradation from the sun. Make sure that none of the retrieval line is exposed to the sun or it will weaken.
Part Numbers for Lifesling 2 Man Overboard Rescue System - 357634