Lewmar Premium Pre-Made Anchor Rode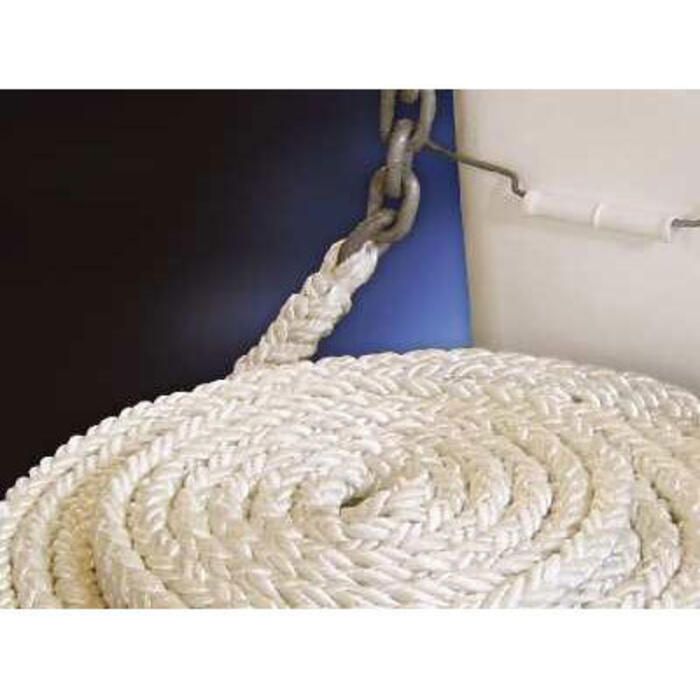 Lewmar Premium Pre-Made Anchor Rode
Item # 941807
Description
Lewmar's Pre-Made Anchor Rode is comprised of 8-plait rope and high test chain for connecting an anchor to a boat. The line and chain are spliced together, allowing it to be used with most appropriately sized windlasses.
Features:
Complements rope chain gypsies fitted to all Lewmar windlasses
Uses 8-individual braided strands woven together that allow the rope to be relaxed
When under load, it tightens up to a firm lay. The higher the load the harder the lay becomes
Eliminates some of the service problems associated with the 3-strand ropes
80% less prone to becoming stiff when used in salt water than 3-Strand
1/3 more absorbent than 3-Strand rope. More absorbent means more weight; more weight means better fall into the anchor locker
Enables 50% more line in locker than 3-strand rope
Hand-sewn whipping guarantees against unraveling
Eliminates hockling and kinking
Resists stiffening with age
Hot-dipped galvanized chain, welded for high strength; calibrated for even pitch
Notes:
8-Plait should be soaked in water (salt or fresh - it does not matter) to pre-lubricate the rope so it can be used in the windlass initially. When rope is used dry and new, we have seen either slippage or sticking in the rope pocket of the gypsy. Once the rope is wet and used, it out performs the 3-Strand. The longer it is used the better it gets.
Lewmar products are designed for use in recreational marine applications. Any commercial application is forbidden without the prior approval of Lewmar engineering and management.
We recommend you check your owner's manual or contact the windlass manufacturer for the correct chain/line, size and type for your windlass.
Part Numbers for Lewmar Premium Pre-Made Anchor Rode