Lewmar Mainsheet Traveler Kit - 29462354BK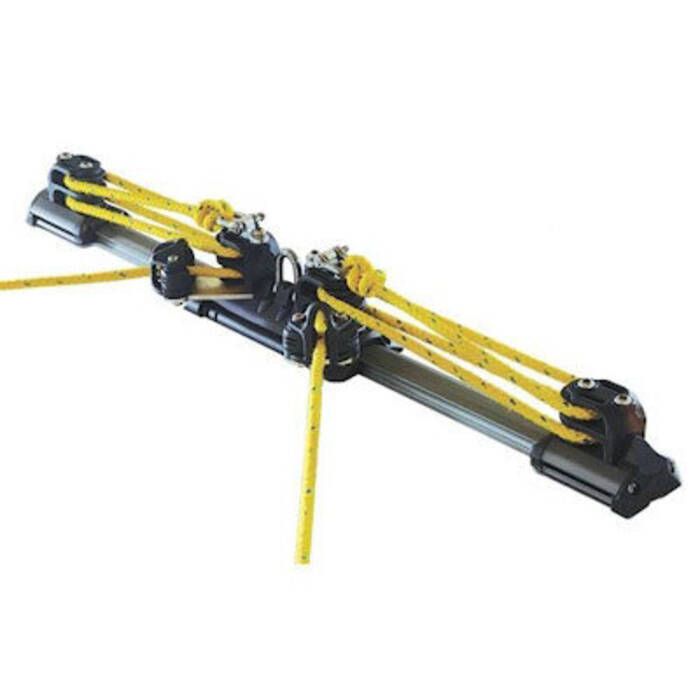 Lewmar Mainsheet Traveler Kit - 29462354BK
Item # 872916
Description
Lewmar's Size 2 Ocean Mainsheet System is a complete kit made specifically for day boats, off shore cruisers and Grand Prix racers up to 49 (14.9 m).
Features:
Lewmar makes selecting your mainsheet system simple with complete mainsheet system kits
Integrated range of mainsheet travelers are fast, functional, and attractive
Perfect for everything from day boats to offshore cruiser and Grand Prix racers
Includes Lewmar's sliding bolt track, which allow you to retrofit the new track to your deck using the original bolt holes
Specifications:
Boat size: Up to 49' based on the following square footage of sail and sheeting point:

Traveller location/Max mainsail area

End boom: 495 ft² (46 m²)
Mid boom: 410 ft² (38 m²)

Safe Working Load: 2000 lbs (1000 kg)
4:1 Purchase system
Designed for boats up to 49'
Suitable for 3/8" (10 mm) control line (sold separately)
In the Box:
1 Mainsheet Car
1 Shackle
2 Double Control Line Sheaves
Cleats and Becket - Part No 29432916
2 End Stop with Double Control Line Sheaves - Part No 29472032
1 Sliding Bolt Track (63") - Part No 29162118
Note: Main seet line sold separately.
Note: Supplied Track can easily be cut to length with a hack saw or jig saw with a metal cutting blade.
Note: The track in these kits is not intended for spanned areas. When spanning cockpits, companionway hatches or any open space, HD Beam Track must be used.
Part Numbers for Lewmar Mainsheet Traveler Kit - 29462354BK