Lewmar 185TT 3.0 kW GEN 2 Tunnel Thruster Package with Joystick - 590091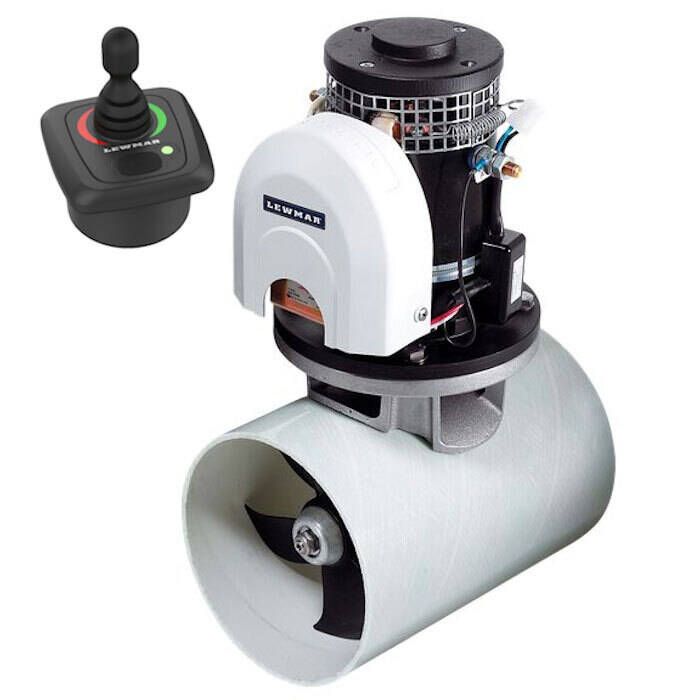 Lewmar 185TT 3.0 kW GEN 2 Tunnel Thruster Package with Joystick - 590091
Item # 872519
Description
Introducing the Lewmar GEN 2 blue box thruster system, Lewmar's next-generation thruster technology. The main electronic components of the system have been completely redesigned to increase reliability and functionality. The system fits with the matched controllers and incorporates features that surpass other high-end systems currently on the market. The configuration has been designed to be as simple and reliable as possible while incorporating today's advances in technology.
Features:
No reservoir to install, no leaks, no maintenance
High-performance, 5-blade propeller gives equal thrust in both directions
High-integrity seal
Spline-driven propeller, no drive pin required
Black box electronics prevent misuse, protects motor
Hardened and ground spiral bevel gear for maximum efficiency, quiet power transmission
Self-resetting thermal protection on all motors
Easy plug together switch connections
Minimum silhouette hub for smooth water flow
Thruster Specifications:
Power supply: 12V DC
Draw: 330A
Power: 4 HP
Tunnel size: 7-9/32"
Thrust: 128 lbs
Weight: 42 lbs
Dimensions:

A = 5-1/8"
B = 10-21/32
C = 7-9/32"
D = 3-11/32"
Lewmar's 2nd generation of thruster controls provides a superior tactile control of single or dual thruster installations. The controllers are installed without the need for rear access and feature a snap-on bezel to neatly hide the mounting screws. A cover is included for additional security against accidental use while providing extra protection from the environment. The existing mounting hole and fixing screw positions can be reused if replacing a previous generation touch panel or joystick panel.
Joystick Features:
Ergonomic joystick gives tactile feedback
Membrane switch panel sealed from dust and moisture
Cover protects against inadvertent use, environment
Multi-function LED indicator displays System deployment, Thruster operation, Low voltage, Motor temperature warning, and Fault conditions
Package Includes:
Lewmar 185TT 3.0KW (Gen 2) Tunnel Thruster - 590006
Blue control box
589268 Joystickli>

2-meter motor cable
10-meter auxiliary cable
2 x 589008 250A fuses
Note: Tunnel sold separately
Data Sheet for This Product (7.62 MB)
Owner's Manual and Installation Guide (5.57 MB)
Click Here for an Owner's Manual and Installation Guide with Dimensions for this Product (1.02 MB)
Part Numbers for Lewmar 185TT 3.0 kW GEN 2 Tunnel Thruster Package with Joystick - 590091