Lenco Digital Auto Glide Kit without GPS Antenna or Network - Single Actuator - 15504-101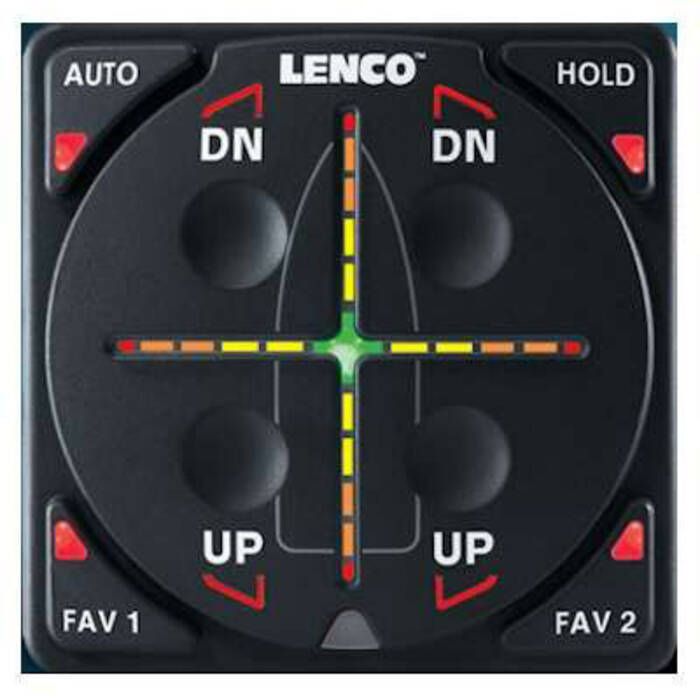 Lenco Digital Auto Glide Kit without GPS Antenna or Network - Single Actuator - 15504-101
Item # 872481
Description
Features:
The Lenco Auto Glide Kit offers real Automatic Boat Control / Trim Tab Control System that actually works – completely & automatically
The Auto Glide system controls your trim tabs from the time you leave your dock until you come home again
The Auto Glide uses engine data and GPS data (depending on your installation method) to drive your boat to the most efficient running angle by adjusting your Lenco trim tabs as needed
This optimum running angle is determined during the set-up process after the installation of your Auto Glide system
Imagine that your boat's running angle is measured 25 times per second
This data is used by the new Auto Glide control box to:
Automatically put your boat in the most efficient running angle
Reduce the amount of bow rise of your boat during hole shot mode
Eliminate bow porpoising (bow bounce)
Keep your boat level at all times
These actions will result in a smoother ride and the best possible fuel efficiency
Please remember to use the trim feature exactly as you would in the normal operation of your boat
The Auto Glide Control Box (brain) consists of gyroscopes, accelerometers, and new, very sophisticated, and patented software
The Auto Glide has (3) automatic operational modes, (4) automatic settings, and (2) manual operational modes
Although you will most likely keep your Auto Glide in automatic mode, you may immediately convert to manual mode simply by pressing one of the (4) Up/Down buttons on the key pad
All of these functions are fully explained in Lenco's Owner's Manual B / Operational Instructions (See Below)
Components of the Auto Glide System :
The main components are the Auto Glide Key Pad, the Auto Glide Control Box (Double Actuator per Trim Tab Versions), the Control Box Main Harness (same 2 versions), and various cables
These cables connect the Auto Glide system to your engine(s), to your GPS unit, your network, and/or a Stand Alone GPS Antenna/Receiver
What is required for this Auto Glide Kit to work on my boat?
Boat must have Lenco Dual Trim Tab System with Lenco Electric Actuators
This is a MUST in all applications
For Aftermarket Systems:
The Lenco Glide System will work on ALL boats with ALL engines
GPS data is used to provide data to control box
Optional connection to NMEA 2000 Network is included
Available for these CANbus-based engines:
NMEA2000 Engines
Yamaha (Command Link Plus requires NMEA 2000 / Yamaha Gateway P/N:6Y98A2D00000)
Evinrude
Honda
Suzuki
Volvo Penta (Non-EVC Engines) (With a Volvo NMEA2000 Gateway - Volvo P/N 3889757)
J1939 Engines
Volvo Penta (EVC Engines)
Yanmar
Caterpillar
Cummins Detroit
Diesel
John Deere
Steyr
SmartCraft Engines
Mercury - Verado
Mercury - Optimax with SmartCraft ECU
Mercruiser with SmartCraft ECU
Cummins/Mercruiser w/ SmartCraft ECU
Options and Accessories: (Available by Special Order)
Second Station Kits and a vast array of other accessories and parts which may be required for your installation are also available
Lenco offers Aftermarket Kits for easy installation on ALL boats, CANbus-equipped or not
Note: The Auto Glide does not control the "trim" function of your engine(s) / motor(s)
WARNING
---
This product can expose you to chemicals including di(2-ethylhexyl)phthalate (DEHP) which are known to the State of California to cause cancer, birth defects or other reproductive harm.
For more information go to www.p65warnings.ca.gov.
Part Numbers for Lenco Digital Auto Glide Kit without GPS Antenna or Network - Single Actuator - 15504-101