Kidde Mariner 5 Portable Fire Extinguisher - 466635MTL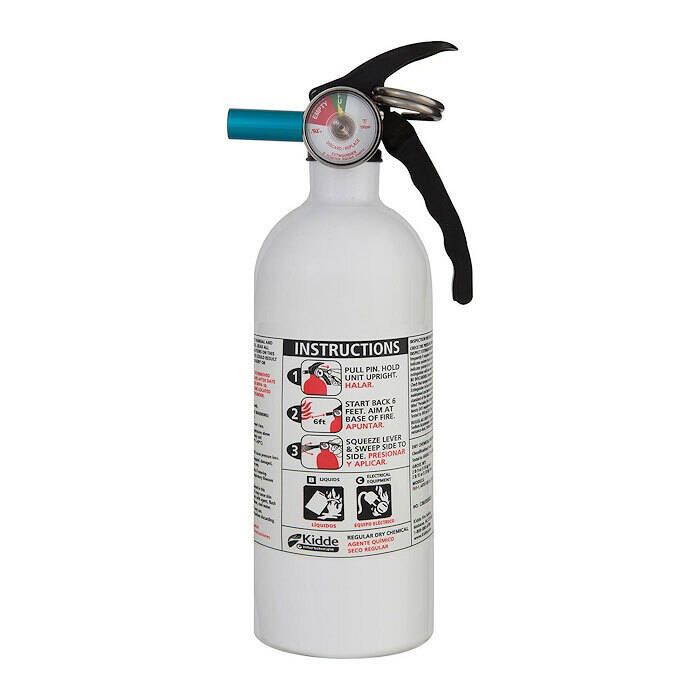 Kidde Mariner 5 Portable Fire Extinguisher - 466635MTL
Item # 872182
Description
The Kidde 3 lb. Mariner 5 Extinguisher is easy to operate. Just pull the pin, aim nozzle at base of fire and squeeze handle.
Features
Updated rust and impact-resistant steel handle
Sodium bicarbonate extinguishing agent
2 lb. fire extinguishing agent (average)
Suitable for use on Class B (liquids and gases) and Class C fires (energized electrical equipment)
Easy-to-read gauge tells you fire extinguisher is charged and ready for use
Clear instruction label with graphics to show steps for operation
Easy-to-pull safety pin
Includes UL approved strap mounting bracket
Coast Guard (USCG) approved when fitted with supplied mounting bracket
Powder coated cylinder for corrosion protection
Specifications:
Net Contents: 2.1 lbs
USCG Size Rated: B-1
Dimensions: 3-1/4" x 11-21/32"
Type: Disposable
Extinguishing agent: Sodium bicarbonate
Fire rating: 5-B:C USCG
Approved: USCG, DOT
Warranty: 6-year limited warranty
Note: Fire extinguishers older than 12 years from the manufacture date are no longer considered good and serviceable and should be replaced with a new fire extinguisher. This includes both disposable (non-rechargeable) and rechargeable fire extinguishers. This regulation goes into effect April 20, 2022.
Part Numbers for Kidde Mariner 5 Portable Fire Extinguisher - 466635MTL