Kenyon Lite-Touch 2-Burner Electric Q Stove Top with PUPS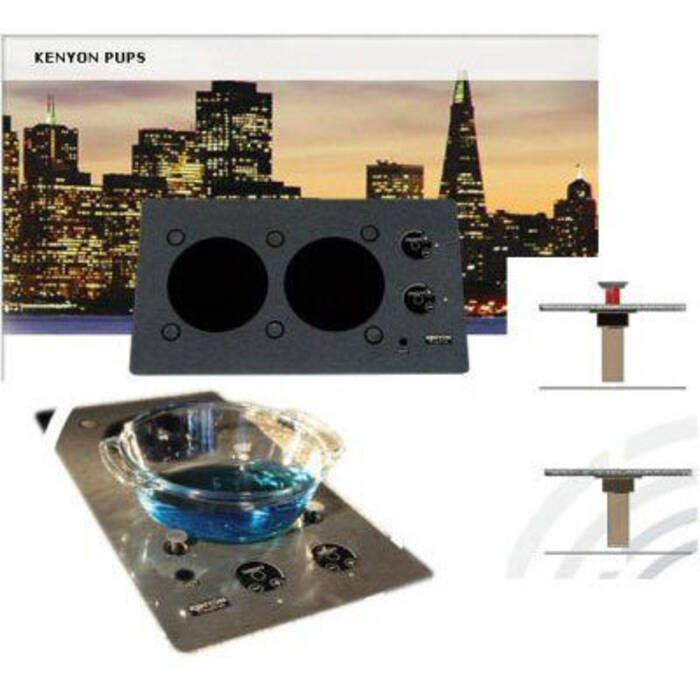 Kenyon Lite-Touch 2-Burner Electric Q Stove Top with PUPS
Item # 872168
Description
The Kenyon Lite-Touch 2-Burner Electric Q Stove Top With PUPS (Pop Up Potholder System) keeps pots safe and secure using a very innovative, patented design. This stove is available in a portrait or landscape orientation using either 120 or 240 Volts AC. With this Kenyon stove top, you will gain valuable countertop space and reduce the cost of installation and materials.
Features:
Space saving drop in stove
2 Burners
Available in portrait or landscape orientation
Available in 120 or 240 Volt AC models
PUPS

One push to pop it up
One push to lock it down
Always there when you need them
Never in the way
Pot rails are no longer needed

There are no expensive recess mountings
Meet ABYC requirements for pot retention
User friendly
Easy to clean
Should you experience a liquid spillover while cooking, simply unscrew the PUPS and rinse them in warm soapy water
Require no maintenance
Stainless steel graphics on round edge ceramic glass
Dimensions: 21" x 12" x 3-1/4"
Available Two Burner Models:
Model B40579PUPS: Portrait mount - 120 volt - 20 amp.
Model B40580PUPS: Portrait mount - 240 volt -10 amp.
Model B40581PUPS: Landscape mount - 120 volt -20 amp.
Model B40582PUPS: Landscape mount - 240 volt - 10 amp.
Part Numbers for Kenyon Lite-Touch 2-Burner Electric Q Stove Top with PUPS