Katadyn Water Purifier Preventive Maintenance Kit - 8012905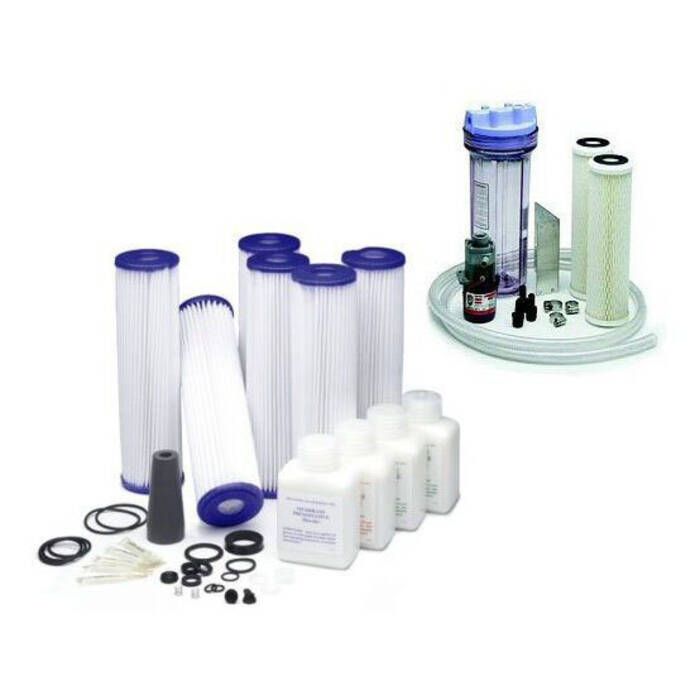 Katadyn Water Purifier Preventive Maintenance Kit - 8012905
Item # 872124
Description
Preventive Maintenance Package is an expanded Cruise Kit, which includes all components of the Extended Cruise Kit, plus a Silt Reduction Kit. This kit is strongly recommended for extended cruising and variable water conditions.
Preventive Maintenance Package Components:
Silt Reduction Kit ( 8012859 ): This kit is intended to protect the high pressure pump and reverse osmosis membrane from excessive exposure to silt and other suspended particulates. It should be used in brackish water, shallow water, inland waterways, areas of glacial runoff and other similar situations. The

Silt Reduction Kit Contains:

5-Micron Prefilter which follows the standard 30-micron filter supplied with the watermaker
1 Amp Boost Pump to ensure adequate intake flow to the watermaker.

Extended Cruise Kit ( 8012895 ) Includes items needed for regular care and seasonal maintenance and/or storage.

Extended Cruise Kit Contains:

(1) Repair Seal Kit ( 8012889 )

A set of all user-serviceable seals and parts for the high pressure pump
This kit also includes replacement gear oil for the drive assembly.
A Repair Seal Kit should be installed after each approximately 1000 hours of use

(1) Container Acid Cleaner
(2) Containers Alkaline Cleaner
(1) Container of Membrane Preservative
(6) 30-Micron prefilter elements.
Part Numbers for Katadyn Water Purifier Preventive Maintenance Kit - 8012905