Katadyn Survivor 35 Watermaker - 8019948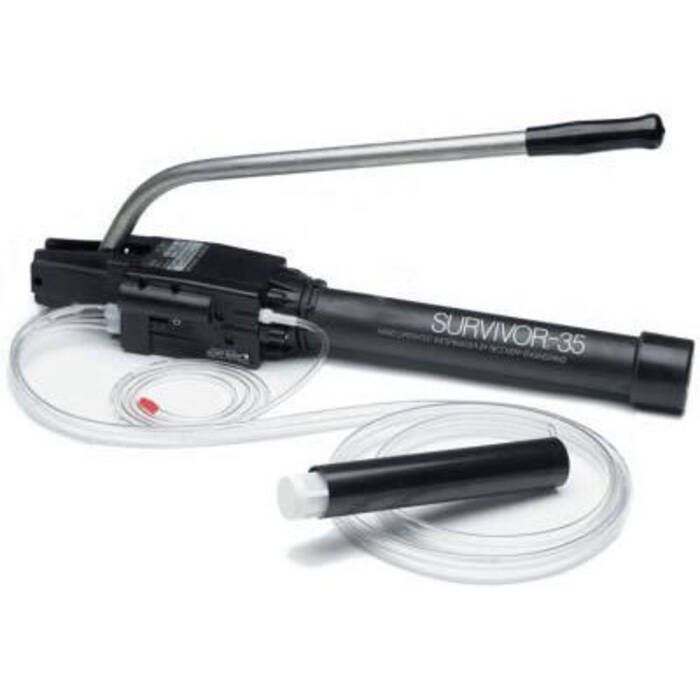 Katadyn Survivor 35 Watermaker - 8019948
Item # 872123
Description
Katadyn Survivor 35 The most widely-used emergency desalinator.
It produces up to 1.2 gallons per hour and is compact and light enough to carry aboard a sea kayak. For sailors without auxiliary power, this unit can fulfill your water needs with a modest effort.
Katadyn watermakers use reverse osmosis to recover fresh water from seawater. This process removes biological, chemical, and organic contaminants from the water. Since the membrane has a pore size small enough to remove dissolved salts, it can also remove most micro-organisms.
Features:
Produces up to 4.5 liters per hour (1.2 Gallons)
Produces enough water for multiple person liferafts
Widely used by US and international military forces, voyagers, sea kayakers, and other adventurer
Specifications:
Dimensions: (cm) 14.0 x 55.9 x 8.9
Dimensions: (in) 5.5 x 22 x 3.5
Output: (gallon) 1.2 gal/h ( 15%)
Output: (liter) 4.5 l/h ( 15%)
Salt rejection: (average) 98.4% (min. 95.3%)
Technology: Reverse Osmosis
Weigh: 3.20 kg
Weight: 7.00 lbs
Part Numbers for Katadyn Survivor 35 Watermaker - 8019948