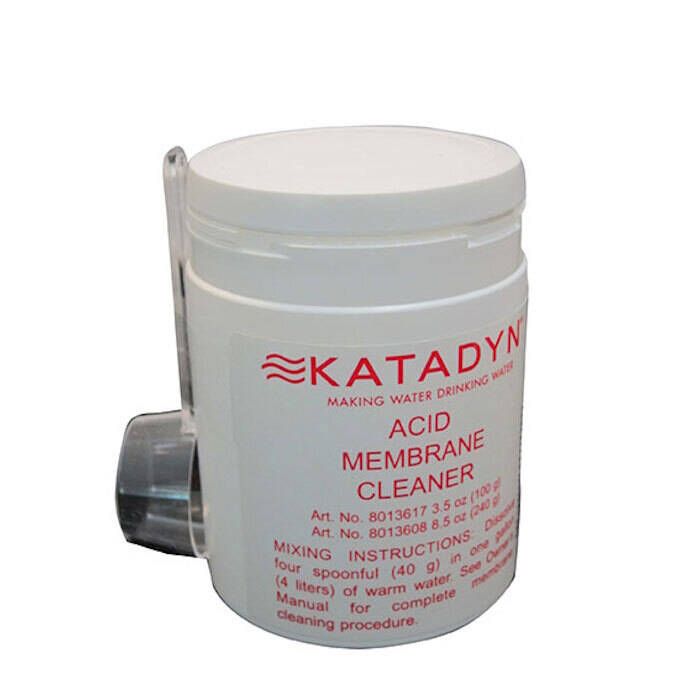 Katadyn Acid Cleaner - 8013608
Item # 872112
Description
Features:
Katadyn Acid Cleaner
Applications: Katadyn PowerSurvivor
Function: Removes Mineral Scale from membrane

Mineral scale is caused by mineral impurities in the intake water supply

Container: 8 ounce bottle (240 grams)
Cleaning the Membrane : Katadyn does not recommend casual or regular cleaning of the reverse osmosis membranes in the water maker. It should only be done when needed. Under normal use conditions, when only open-ocean sea water is being processed, cleaning the membranes should rarely (or never) be necessary. Proper membrane preservative treatments prior to extended periods of non-use will reduce biological growth on the membrane surface. Under these conditions and with proper care, a membrane can be used for years without requiring a cleaning. Cleaning the membranes is only necessary if contaminants are deposited on and adhere to the membrane surface in sufficient amounts to effect the output of freshwater. Usually this condition also causes battery current to increase.
There are (2) main types of deposits and a different chemical cleaner is needed for each type:
Use Alkaline Cleaner for Organic Growth usually caused by processing brackish water or failure to properly store a membrane during extended periods of non-use
Use Acid Cleaner for Mineral Scale caused by mineral impurities in the intake water supply
The only indication that the membranes might benefit from cleaning is a substantial reduction in the quantity of freshwater output, all other factors being normal (e.g., battery voltage, salinity, seawater temperature). The best way to detect such a problem is by keeping an accurate log of freshwater output at known battery voltages. Such a practice is highly recommended. If you have determined that your membranes need cleaning and you know the type of deposits (mineral or organic), use the appropriate cleaner. If you do not know the nature of the deposits, try cleaning first with the Alkaline Cleaner and check for improvement in freshwater output. If output remains poor, repeat the cleaning process using the Acid Cleaner. Never mix the two. Note: Buildup of deposits and reduction in freshwater outflow usually take place gradually over extended periods of time. Sudden reduction or stopping of water output is rarely caused by a dirty membrane. Always flush well with clean water between processes if performing both alkaline and acid cleaning.
The following directions apply for both types of membrane cleaners:
1. Turn the clean/run valve lever on the pump to its "clean" position (see Figure 8 )
2. Discard any dirty seawater in the prefilter assembly. Clean the housing and install a clean element
3. Fill a clean plastic container or bucket with one gallon (approximately 4 liters) of clean water. Freshwater is preferable, but clean seawater may be used if freshwater is not available. ( Caution: Never use chlorinated freshwater. This may damage the membrane.)
4. Prepare the cleaning solution according to the instruction on the cleaner container. Do not mix Acid Cleaner and Alkaline Cleaner. Stir until the cleaner is completely dissolved. The water should be warm, but not over 120° F (49° C)
5. Turn the lever on the prefilter 3-way valve to the alternate intake position. Run the 1/4" alternate intake hose with the strainer attached into the container of cleaning solution
6. Disconnect the reject brine water hose from its drain (or use a separate length of hose) to route the reject brine water back into the container of cleaning solution during the following procedure
7. Turn on the water maker. Discard any solution coming from the reject brine hose for about 30 seconds. Then run the reject brine water hose back into the container of cleaning solution to allow recirculation of the cleaner
8. Continue to run the water maker for about 15 minutes, to assure that the cleaning solution is well circulated through the pump and membrane housing
9. Turn off the water maker and allow the membranes to soak in the cleaning solution for 5 to 10 hours, or overnight
For severe fouling, repeat Steps 8 and 9 of this procedure.
10. When the soaking is finished, remove the reject brine hose from the cleaning solution container and run the water maker again. Discard the first pulses of the reject brine water. When the reject brine flow becomes cleaner, return the reject brine hose to the cleaning solution container for recirculation
11. Continue to run the water maker and recirculate the cleaning solution for another 30 to 60 minutes
12. When cleaning is complete, turn off the water maker. Reconnect the reject brine hose to its normal drain location
13. Remove the alternate intake hose and strainer from the cleaning solution and place them into a container of clean, warm (non-chlorinated) freshwater. If freshwater is not available, clean seawater may be used if its temperature is above 68° F (20° C)
14. Turn on the water maker and flush warm water through the system for 5 minutes. If the water maker will be stored for more than a week (three days in warm climates), it should now be treated with the membrane preservative solution
Part Numbers for Katadyn Acid Cleaner - 8013608