Johnson Submersible Cartridge Non-Automatic Bilge Pump
$27.19 - $37.90
$24.46 - $34.10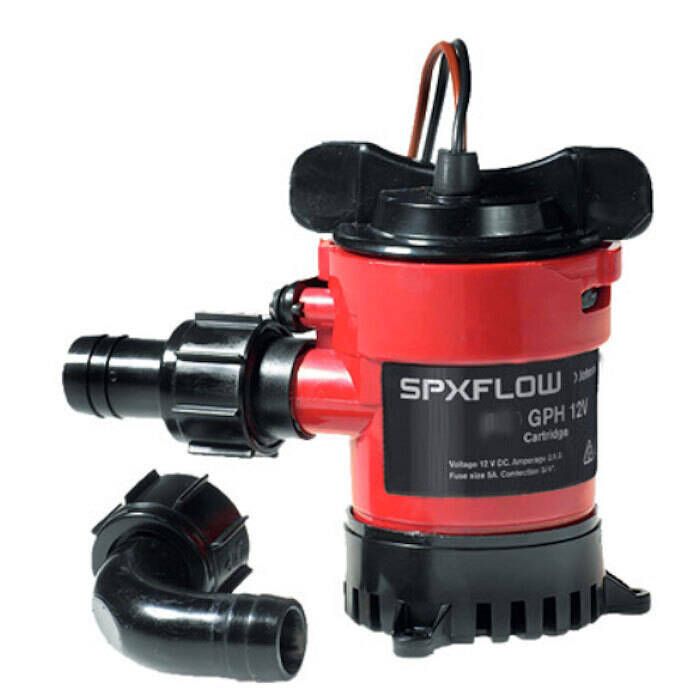 Johnson Submersible Cartridge Non-Automatic Bilge Pump
Item # 871276
Description
Make bilge pump cleaning and maintenance easier with an SPX FLOW Johnson Pump Submersible Cartridge Bilge Pump. The cartridge contains an all-in-one motor/impeller unit with no loose parts and is designed to lift our of the housing easily, allowing you to leave the housing attached to both the boat and the hoses. Simply lift a tab on the top, give the cartridge a twist and pull it out; that's all there is to it.
Water Cooled For Extended Service - These Johnson cartridge pumps are assembled in the United States use remarkably little electricity for the amount of water they pump. Their efficient motors also provide increased service life, thanks in part to an ingenious solution that circulates discharge water around the motor for cooling
The cartridge pumps incorporate some of the most advanced features in the industry, features developed from service in a wide variety of applications including racing, cruising, sport fishing, and demanding commercial duties. The pump comes with an easy-to-install Dura-Port discharge port to eliminate stress cracking caused by over-tightened hose clamps. They are delivered with both a straight and 90-degree smooth elbow Dura-Port as well as a removable check valve.
Submersible bilge pumps are not self-priming and must be installed in the deepest part of the bilge.
Features:
All-in one motor/impeller unit
No tools needed for maintenance
Extremely energy efficient
Water cooled motor for long service life
Can be equipped with a bilge pump switch for automatic operation
Meets the strict international standard, ISO 8849 Marine
Specifications:
Pump body Material: Thermoplastic
Shaft seal: Lip seal
Shaft Material: Stainless steel (SS2343)
Hose size: 3/4"
Capacity @ 13.6V: with 3 FT (0.9 M) head — 525 GPH (33 L/Min)
Capacity @ 13.6V: Straight — 630 GPH (40 L/Min
Power: 12V DC @ 2.5 amps (5 amp fuse)
Capacity @ 13.6V: with 3 FT (0.9 M) head — 700 GPH (44 L/Min)
Capacity @ 13.6V: Straight — 800 GPH (50 L/Min
Power: 12V DC @ 3 amps (5 amp fuse)
Capacity @ 13.6V: with 3 FT (0.9 M) head — 950 GPH (60 L/Min)
Capacity @ 13.6V: Straight — 1050 GPH (66 L/Min
Power: 12V DC @ 3.2 amps (5 amp fuse)
Dimensions:
Height: 112 mm
Diameter: 70 mm
WARNING
---
This product can expose you to chemicals which are known to the State of California to cause cancer, birth defects or other reproductive harm.
For more information go to www.p65warnings.ca.gov.
Part Numbers for Johnson Submersible Cartridge Non-Automatic Bilge Pump