Isotherm Plus ITC 4201 Holding Plate - U150X050A11461AA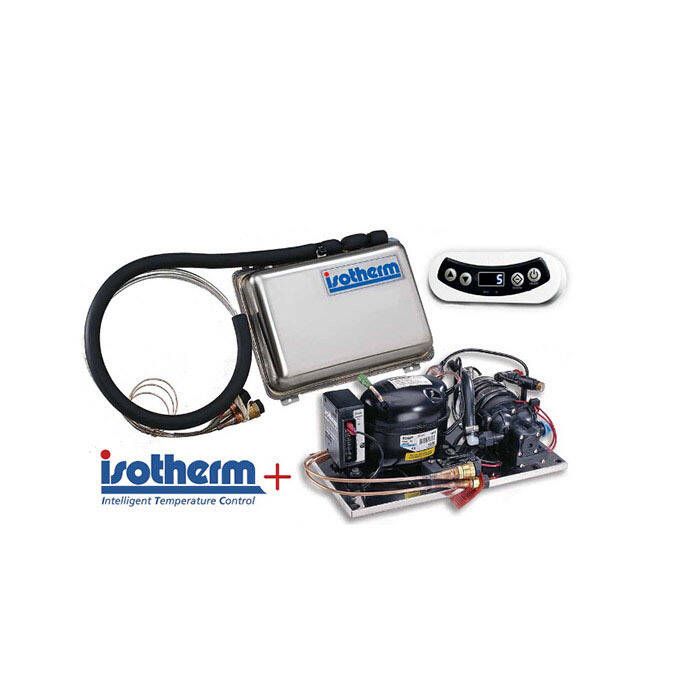 Isotherm Plus ITC 4201 Holding Plate - U150X050A11461AA
Item # 870828
Description
The Isotherm 4201 Magnum compact build-in refrigerator is cooled by a self-priming raw water pump mounted on the compressor plate. Magnum systems are specially designed for vessels with exceptionally high heat removal requirements such as vessels with large refrigerator volumes or vessels sailing in tropical waters.
Isotherm ITC Systems are designed for installations in existing cool boxes and mainly for use in sailing yachts where battery power is at a premium.
The Isotherm PLUS with ITC control module allows the user to set the temperature they want. With a simple push of the up or down keys, the digital temperature setting in Celsius or Fahrenheit will read out on the display panel.
Isotherm PLUS is replacing the ASU control module with the Intelligent Temperature Control (ITC) in combination with the Isotherm Holding Plate:
Same eutectic holding plate sizes
Same dependable SeCOP (Danfoss) compressors backed by the exclusive Isotherm 5-year limited warranty
More control over energy savings
Digital temperature readout in Celsius or Fahrenheit
Digital temperature control
Compressor speed control
Battery protection control
The stainless-steel holding plate can be fitted at any suitable angel high up in the box before being connected to the compressor unit by the 3 meter long, 6 mm Dia. flexible copper piping fitted with quick-couplings. The compressor unit is small enough to be fitted in a stowage area within connecting distance from the holding plate. Extremely quiet when running, it can even be fitted under a bunk if needed. After connecting the leads to the battery, the pre-filled system is ready to go.
Specifications:
Type: 4201
Maximum Box Volume cu.ft.: 7.0
Evaporator: Medium holding plate
Dimensions evaporator L x W x H (inches): 14 x 11 x 2.4
Dimensions compressor L x W x H (inches): 21 x 11 x 2.4
Power consumption @ 12V AC:

Average amp/hour: 0.9
Maximum amp/hour: 7.1

Weight (lbs.): 42
Danfoss Compressor Model: BD50F
The Isotherm warranty is 2 years from the date of purchase on all components and a 5 year limited warranty on the compressor
Part Numbers for Isotherm Plus ITC 4201 Holding Plate - U150X050A11461AA