Isotherm Cruise 40 CUBE Fridge/Freezer - 1040BB7AC0000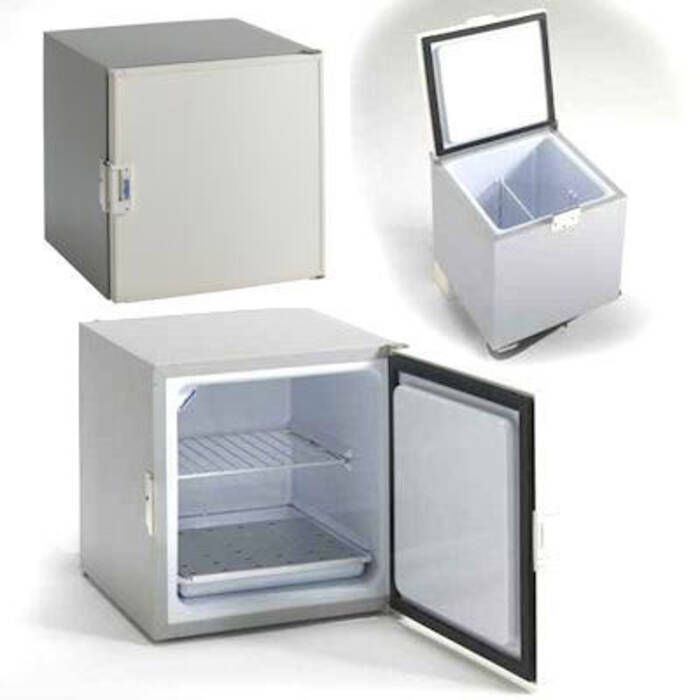 Isotherm Cruise 40 CUBE Fridge/Freezer - 1040BB7AC0000
Item # 870775
Description
The Isotherm CUBE 40 is a front opening or top loading fridge or freezer for ultimate flexibility in installation and use. The Isotherm Cruise 40 CUBE is an innovative refrigeration unit can be installed like a traditional front opening Isotherm Cruise line refrigerator or freezer with front opening door or as a top loading box like other Isotherm Built-In units. Boat owners now have the flexibility to use the 40 CUBE as a refrigerator for ice cold beverages cooled to temperatures just above freezing, a normal fridge for food and vegetables, or a deep freezer that will maintain temperatures of zero degrees Fahrenheit.
Features:
The CUBE 40 is designed to be installed as a front-opening or top-opening refrigerator or freezer
The CR 40 CUBIC can be used as a fridge or freezer and installed both as a front opening fridge or freezer (Cruise) and / or as a top opening fridge or freezer (Built-In box)
As standard installation the CR 40 CUBIC is an ordinary front opening fridge or freezer
By changing position, it can be mounted like a cockpit top opening fridge or freezer as the Isotherm Built-In line products
Plastic interior lining is extra rugged and easy to clean
Interior light and thermostat is easy to access
Remote Mount AC/DC or DC only Danfoss compressors
Lids are ready to be customized with countertop materials or with panels for the CUBE 40
Change the white panel in the door for your own custom look to match your boat's décor
The 40 CUBE is perfect for all applications
Charter boat owners will love the range of temperatures and installation options to provide additional freezer space for outbound trips and ability to turn this versatile freezer into a fridge for ice-cold beverages for thirsty charter parties
Small boat owners will love the value of having a unit that will do it all in one product
Pair the CR40 CUBE up with a second unit for the perfect fridge and freezer combo
The compressor can be remote-mounted up to a distance of 4.3 feet away so the entire interior space is open for all uses which will maximize storage volume in a small footprint
The 40 CUBE uses an open thermostat +50 ° F to -8°F which gives users the flexibility to use the product as either a refrigerator or freezer
The Isotherm warranty is 2 years from the date of purchase on all components and a 5 year limited warranty on the compressor
Specifications:
Gross Capacity 40 Liters / 1.4 Cubic Feet
External Dimensions (H x W x D) 17.1"x 16.9"x 16.5" (24.6" with compressor)
Internal Dimensions (H x W x D) 13" x 13" x 14.6"
Door Opening Front opening or top opening
Weight 39 lbs
Power 45W (3.7 amps) @ 12V
Power Supply 12-24V DC and 115/230V AC (AC/DC)
Temperature Range +50°F to 0°F
Consumption 186W / 24 hr @ 42°F fridge / 72°F ambient
Cooling System DANFOSS/SECOP BD35F Air Cooled Compressor
Remote Compressing Unit Up to 4.3 feet
Refrigerant Gas R134a CFC free
Insulation CFC FREE PU FOAM
Climate Class ST
IMPORTANT: When the temperature is turned to the maximum cold position, the thermostat will be in the "run" mode continually (no cycling); this will result in the continuous operation of the compressor.
NOTE: The 40 CUBE is equipped with an aluminum grill and a drip tray for collection of condensation water and a transparent ABS drain hose which can be used but is not necessary to drain any condensation accumulation in the top loading orientation
Part Numbers for Isotherm Cruise 40 CUBE Fridge/Freezer - 1040BB7AC0000