Isotherm Cruise 130 Elegance Refrigerator/Freezer
$1,546.00 - $1,669.00
$1,391.40 - $1,669.00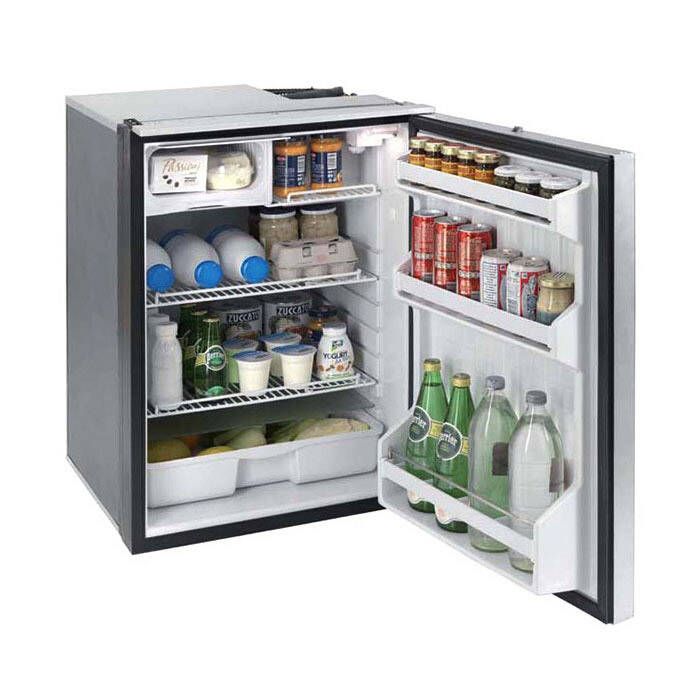 Isotherm Cruise 130 Elegance Refrigerator/Freezer
Item # 870771
Description
Isotherm's mission is to offer high quality and energy-efficient refrigeration system solutions designed exclusively for sailing yachts and motor cruisers. The Cruise Elegance line is the ultimate combination of style and technology. Elegance refrigerators have extra insulation and a freezer design that reduces battery consumption, resulting in superior performance.
Features:
High quality construction using corrosion-resistant materials
Fan-cooled 12 / 24V Danfoss compressor (model BD35F) with low power consumption and quiet operation
New installation system allows easy fixing of the cabinet directly from interior of the fridge
External flange is no longer necessary
Innovative internal bushing prevents the crushing of the insulated side wall
Blue LED interior light included as standard equipment
New handle has been designed to open large sized doors from a central position
Separate freezer compartment
Full custom design of door panel and handles available by Special Order
Innovative vent-lock system
With simple slide of the invisible mechanism, Cruise Elegance can be switched to ventilation status
The door is kept open while the refrigerator is out of operation
Newly designed inner lining made of high density plastic
Extra-thick insulation means lower power consumption
(2) Adjustable shelves, (3) inside door retainers
The Isotherm warranty is 2 years from the date of purchase on all components and a 5 year limited warranty on the compressor
Specifications:
Cruise EL 130 Elegance Refrigerator
Refrigerator Type: Cabinet
Interior Light: Yes, Blue LED
Mount: None required - cabinet is fixed directly from interior of the refrigerator
Total Volume / Capacity:

4.6 cu.ft. - Fridge
0.21 cu.ft. - Freezer

Door Swing: Right
Compressor: Danfoss / Secop BD35F
Dimensions: 29.6" H x 20.7" W x 19.4" D
Power Consumption: 418W / 24 hours
Weight: 29 kgs (63.93 lbs)
Part Numbers for Isotherm Cruise 130 Elegance Refrigerator/Freezer
Questions
Is this unit both 12bolt and 125volt and what is the power draw? How big of a solar panel would be needed to keep it running when at anchor?
Yes it is both 12 vdc and 120 vac. I have 3 x 100 amp solar panels that have kept the refrigerator and a freezer going with attaining float most days. 
Date published: 2023-09-22