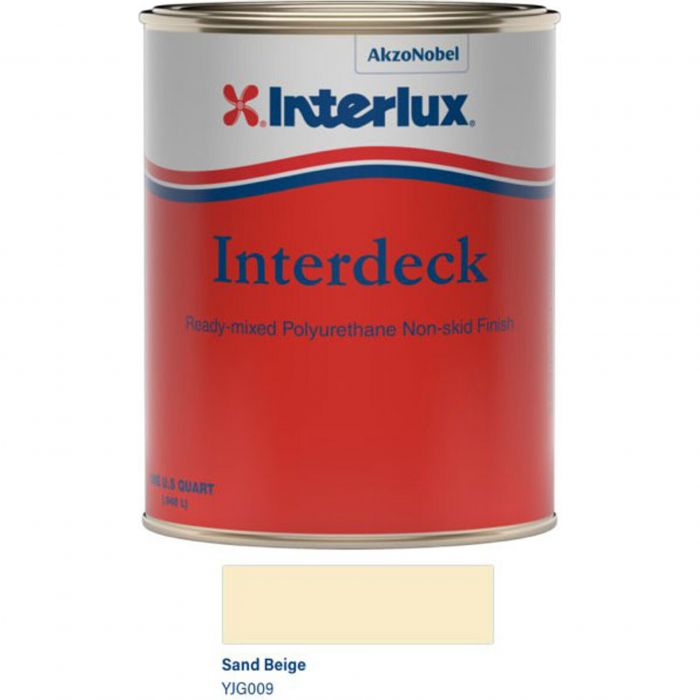 Interlux Interdeck Non-Skid Paint
Item # 870519
Description
Interlux Interdeck is a tough, slip resistant deck paint that contains a fine aggregate and will apply easily on all substrates. It protects the deck surface from every day wear and tear and has an excellent slip-resistant finish with a tough polyurethane resin with a low sheen finish.
Features:
Ready-mixed polyurethane non-skid finish
Contains fine mineral additive for hard wearing, non-slip surface
Low-sheen finish to reduce sun's glare from decks
Applies easily on all substrates
Apply straight from the can with brush or roller
Specifications:
Container Size: Quart
Type: Polyurethane non-skid finish
Finish: Low sheen
Solids: 54% by volume
Typical shelf life: 2-years
VOC (as supplied): 357 g/lt
Application: Brush or roller
Thinner: Brushing Liquid 333
Cleaner: Special Thinner 216
Drying Time:
Touch Dry:

41°F (5°C): 5 hours
59°F (15°C): 4 hours
73°F (23°C): 3 hours
95°F (35°C): 2 hours

Dry to Walk On:

41°F (5°C): 4 days
59°F (15°C): 3 days
73°F (23°C): 2 days
95°F (35°C): 1 day

Overcoat:

41°F (5°C): 24 hours - 4 days
59°F (15°C): 20 hours - 3 days
73°F (23°C): 16 hours -2 days
95°F (35°C): 12 hours - 1 day
WARNING
---
This product can expose you to chemicals which are known to the State of California to cause cancer, birth defects or other reproductive harm.
For more information go to www.p65warnings.ca.gov.
Part Numbers for Interlux Interdeck Non-Skid Paint