Interlux Fiberglass Bottomkote NT Antifouling Paint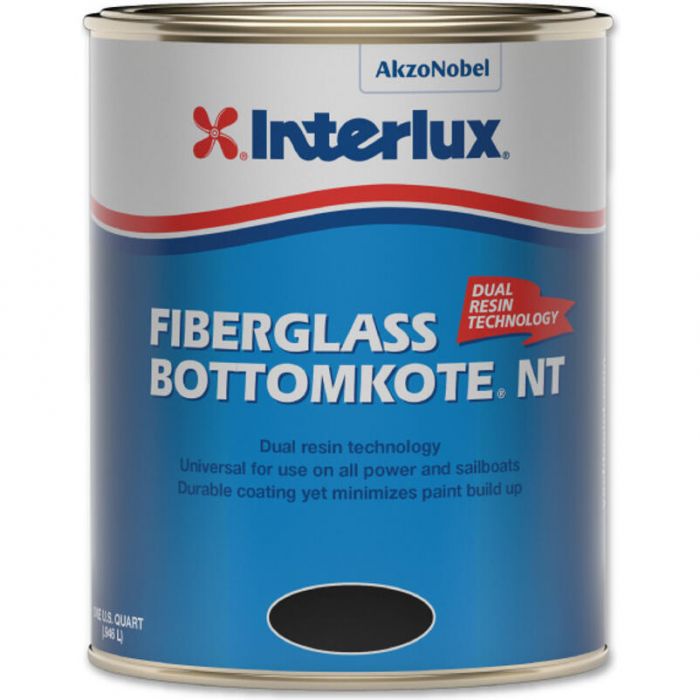 Interlux Fiberglass Bottomkote NT Antifouling Paint
Item # 870500
Description
Fiberglass Bottomkote NT uses a dual resin technology that provides a universal durable, fast dry antifouling paint that delivers the benefits of both hard and ablative antifouling paints for use on all power and sailboats. Fiberglass Bottomkote NT can be applied over most other antifouling paints provided the old coating is tightly adhered and is in sound condition. Always refer to the Interlux antifouling compatibility chart for overcoating recommendations.
Features:
The universal formula of Fiberglass Bottomkote NT has durability of a traditional hard paint but has a slow polishing mechanism built-in that continuously smoothes and renews the active surface avoiding the heavy buildup of paint layers much like an ablative paint
The fast dry formula allows the boat to be painted and launched in the same day
Fiberglass Bottomkote NT provides clean stable colors for effective season-long protection
Fiberglass Bottomkote NT is recommended for use on the underwater areas of fiberglass, wood, and properly primed metal (except aluminum) boat hulls
It can be used in fresh, salt and brackish waters
The Fiberglass Bottomkote NT Advantages:
NT (New Technology): Optimizes the benefits of hard and ablative paints through a unique Dual Resin approach
Durable: Coating prevents premature wear-through yet a slow polishing action minimizes unnecessary paint buildup
Renewable: Surface continuously smooths with use, providing a fast, fuel efficient coating
Fast dry: With (2) hours between coats and (6) hours to launch at 75ºF, this super fast formula offers productivity benefits for both yards & Do-It-Yourself applicators
Universal: A cost effective choice for all power and sail boats and in all waters
Specifications:
Color Code:

Red = YBB349
Green = YBB359
Blue = YBB369
Black = YBB379

Coverage: 400 sq. ft./Gal. Yields 2 mils dry film thickness
Surfaces: Fiberglass, wood and properly primed metals. Do not use on aluminum
Application methods: Brush, roller or airless spray
Application temperature: 50°F (10°C) and above
Dry times at 75°F

Touch dry – 1 hours
Dry to overcoat – 2 hours
Dry to launch – 6 hours

Coats Required: (2) coats minimum at 4 mils WFT/2 mils DFT
VOC: Less than 465 g/L. Less than 3.9 lbs/Gal
WARNING
---
This product can expose you to chemicals which are known to the State of California to cause cancer, birth defects or other reproductive harm.
For more information go to www.p65warnings.ca.gov.
Part Numbers for Interlux Fiberglass Bottomkote NT Antifouling Paint