Humminbird AutoChart PC Pro Mapping Software - North America - 600032-1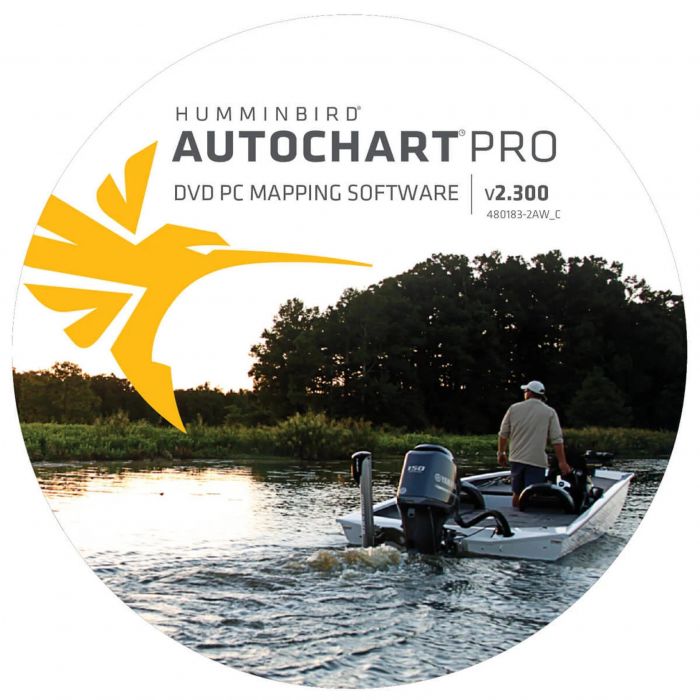 Humminbird AutoChart PC Pro Mapping Software - North America - 600032-1
Item # 961337
Description
AutoChart™ PRO for North America offers all the leading features of AutoChart with two key enhancements designed to give tournament anglers a competitive edge - including Bottom Hardness, Side Imaging mosaic and more.
Features:
EXCLUSIVE to AutoChart PRO - Both Bottom Hardness Indication and Side Imaging Mosaic. Bottom Hardness Indication identifies areas likely to hold fish. Side Imaging Mosaic allows you to overlay your Side Imaging returns onto your AutoChart map for a 3D visualization of fish-holding habitat
AutoChart PRO operates the same way as AutoChart by using proprietary software that takes your Humminbird's sonar returns and GPS to build custom lake charts. Create your own contour map on any lake in 3 simple steps:

Record sonar data after inserting a blank SD card into your Humminbird
Import your recordings into the AutoChart PC program and convert your survey into a lake map
Export your map onto the Zero Lines Map Card (included) to display on any compatible Humminbird

With AutoChart's generated contours, you'll have access to all the detail and features of Humminbird LakeMaster charts including: Depth Highlight, Water Level Offset, Shallow Water Highlight, Importing and Exporting of waypoints, and i-Pilot Link functionality
The Zero Line card is the starting point to your mapping adventure. Included with the AutoChart PC software is a 32 GB map card loaded with Zero Lines (shorelines) for millions of water bodies in North America - excluding Alaska. With these Zero Lines, create your own detailed maps of any fishing spot, even where contour coverage doesn't exist. Once your AutoChart map is created, it gets loaded back onto the Zero Line card where it can be viewed by compatible Humminbird fish finders
Humminbird AutoChart enables you to use Minn Kota® i-Pilot® Link™ after you create contours with the revolutionary AutoChart PC Software. The i-Pilot Link's innovative Follow the Contour feature directs the trolling motor to follow a specific depth contour. The chosen contour line can be followed in either direction, or stay a set distance from that contour or shoreline with Contour Offset. Go to minnkotamotors.com for more information
North America coverage – U.S.: Over 140,000 named water bodies and over 1.75 million unnamed water bodies, in addition to detailed coastal shoreline. Canada: Over 96,000 named water bodies and over 3.85 million unnamed water bodies
Create your own detailed shoreline using aerial imagery within AutoChart PRO PC; AutoChart PRO maps will overlay LakeMaster maps on HB unit that have two card slots
AutoChart is optional for select APEX, SOLIX, HELIX, ONIX, ION, 1100, 900, 800, and 600 Series models. Compatibility subject to change without notice
32 GB SD card with over 16 GB of free space to maintain your custom maps; card must be present to get the detailed zero line base map to display in AutoChart PRO PC. Your Humminbird unit may require a software update
Minimum PC Requirements: 512 MB Ram (1024 MB RAM Recommended); 10 GB Free hard drive; Windows XP (sp3) or greater; DVD-ROM Drive
WARNING
---
This product can expose you to chemicals including Naphthalene, which are known to the State of California to cause cancer, birth defects or other reproductive harm.
For more information go to www.p65warnings.ca.gov.
Part Numbers for Humminbird AutoChart PC Pro Mapping Software - North America - 600032-1