Harken Folding Padeye - 3207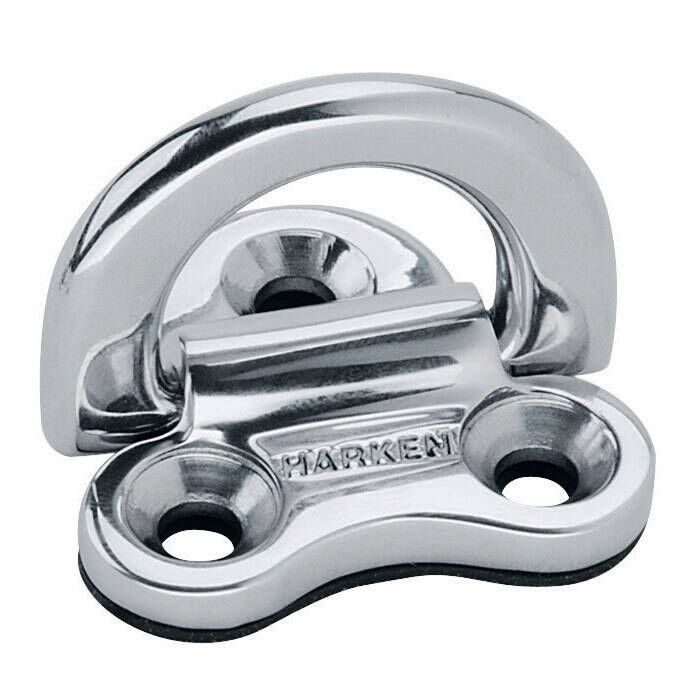 Harken Folding Padeye - 3207
Item # 868853
Description
Folding padeyes keep your deck and passageways clear. They're ready when you need them and can attach to a snatch block or fender, folding safely out of the way when you don't.
Features:
For use in a variety of applications serving as temporary or permanent attachment points for blocks, lashings, and tie downs
Ready when you need to attach a snatch block or fender, but fold flat onto the deck, keeping it clear and protecting your toes when you don't
Use as attachment points for loops/soft attach blocks, jack lines and tethers, leads, tie downs, lifting points, fenders
Pad eyes fold safely onto the deck until needed
Investment-cast bolt-down bases and forged D-rings are 316 stainless steel
Vulcanized thermoplastic pad prevents rattling and vibration and holds D-ring in position
Note: Folding pad eyes differ from conventional pad eyes in that the load should be perpendicular to the hinge and bail instead of in line with it

The strongest positions are with the D-ring vertical or leaning toward the fold-down position, which focuses the load on the side anchored with two screws
Specifications:
Maximum working load: 3,080 lbs (1,400 Kg)
Breaking load: 6,160 lbs (2,800 Kg)
Fasteners: 1/4" (6 mm) (Sold separately)
Material: 316 Stainless steel
Dimensions:

A: 1-7/8" (47 mm)
B: 1-5/8" (42.25 mm)
C: 1-1/8" (28 mm)
D: 15/16" (23 mm)
E: 19/32" (14.9 mm)
F: 1-1/8" (28 mm)
Note: do not use Harken Equipment for human suspension.
Part Numbers for Harken Folding Padeye - 3207