Harken 57 mm T2 Soft-Attach Ratchamatic Block - 2160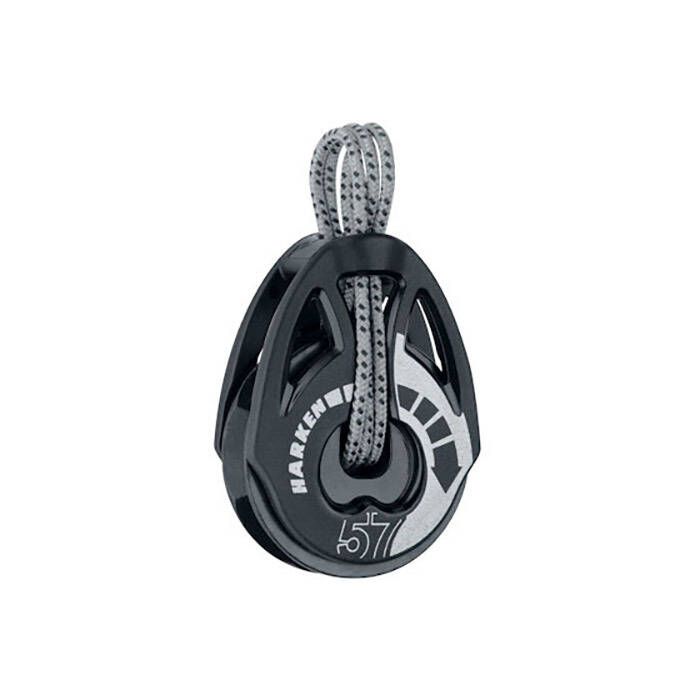 Harken 57 mm T2 Soft-Attach Ratchamatic Block - 2160
Item # 868731
Description
The Harken 2159 40 mm T2 Ratchamatic Block features T2 Series styling and a soft-attachment system. The weight of this high-strength block is only a few ounces and is used for mainsheet and spinnaker systems on beachcats, dinghies, and sportboats.
Features:
This is thanks to composite fiber-reinforced sideplates, hard coat-anodized aluminum sheave, a lightweight soft-attach, and a minimum of moving parts in the ratcheting mechanism
All T2 blocks are lashed or spliced through the load-bearing center of the block, decreasing the loads on the sideplates and acting as a safety backup for the system
Lashing allows ratchet adjustment close to the deck
Lashing or splicing provides a variety of options for securing the block at exactly the right height to maintain a fair lead
Pressure on the line engages the ratchet mechanism, which switches seamlessly from free-running to ratchet mode
Unloaded main and jib sheets run out freely during mark roundings, and asymmetrical spinnaker sheets free instantly during jibes
T2 Ratchamatic blocks are clearly labeled with high-contrast directional markers for correct reeving and trimming direction
A length of Spectra® line with a polyester cover is included
Specifications:
Sheave diameter: 57 mm (2 1/4")
Length: 79 mm (3 1/8")
Weight: 71 g (2.4 oz)
Maximum line diameter: 10 mm (3/8")
Maximum working load: 227 kg (500 lbs)
Breaking load: 907 kg (2000 lbs)
Holding power w/180 degree wrap 50 lbs (23 kg): 10:1
Note: do not use Harken Equipment for human suspension.
Part Numbers for Harken 57 mm T2 Soft-Attach Ratchamatic Block - 2160