Harken 57 mm Single Block with T2 Soft-Attach Loop - 2151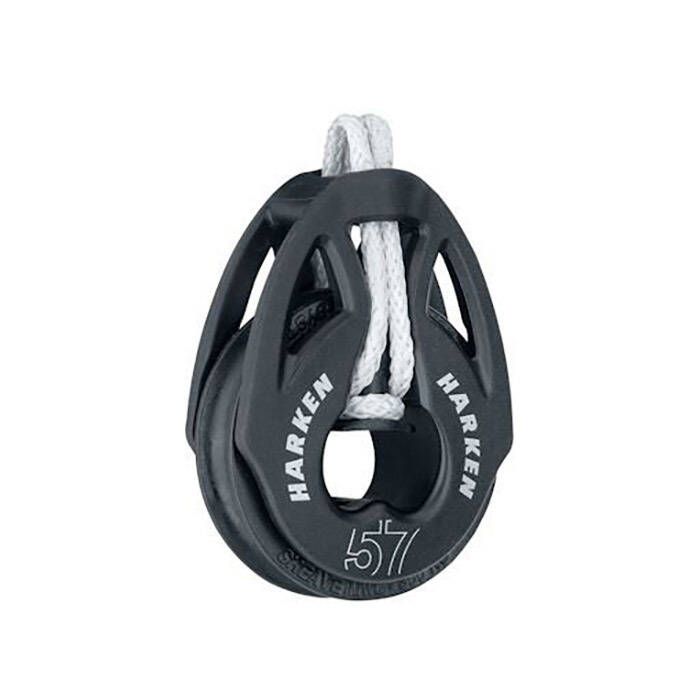 Harken 57 mm Single Block with T2 Soft-Attach Loop - 2151
Item # 868726
Description
The all-composite 57 mm Single Block with T2™ attach loop is the first block with no metal shackles or rivets to corrode. Used for soft attachment, this lightweight block provides a fair lead and reduced friction.
Features:
Fiber-reinforced high-strength nylon resin side plates have no metal fasteners
Attachment line routed through the blockhead and sheave, reducing load on the side plates
"Through Head" design also serves as a safety backup for your system
Composite sheave spins on ball bearings with fitted races for low-friction rolling
Soft attachments reduce weight and noise while allowing the block to articulate to align with the load
130 mm 75 Dyneema® loop is included
Loop slides easily through the block head and over the anchor post for a secure connection
No knots, splices, or tools required
Replacement loops are available
Simple construction, requires no lubrication
Blocks flush clean with fresh water
Ideal for use with:

Lightweight traveler controls
Mainsheet and vang systems
Cascades
Bridles
Specifications:
Maximum Working Load: 792 lbs (359 kg)
Breaking load: 2380 lbs (1080 kg)
Weight: 2 oz (59 g)
Sheave diameter: 2 1/4" (57 mm)
Maximum line size: 7/16" (11 mm)
Note: do not use Harken Equipment for human suspension.
Part Numbers for Harken 57 mm Single Block with T2 Soft-Attach Loop - 2151