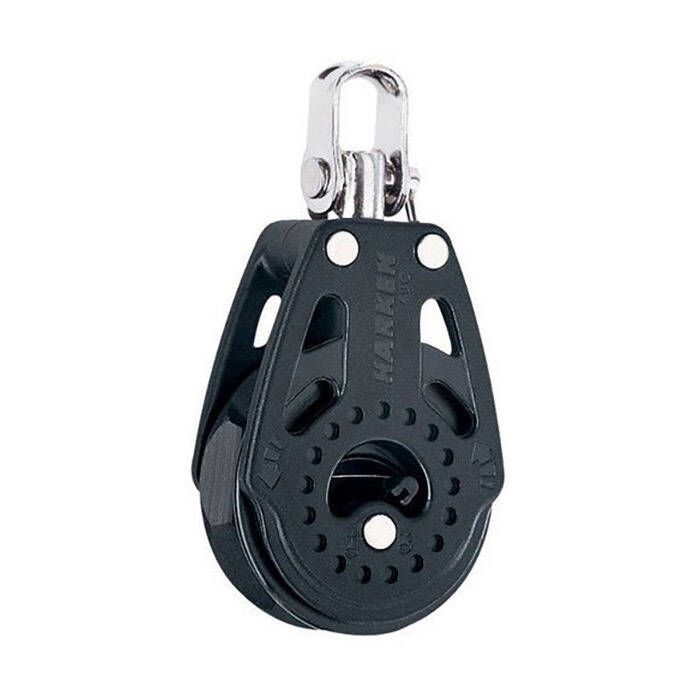 Harken 40 mm Carbo Air Block - 2608
Item # 868648
Description
The Harken 40 mm Carbo Air Block - Single with Ratchet (2608) is a lightweight, strong and affordable block. They enable safe and easy sail trimming and are 30% lighter, with a 60% higher working load, than Classic blocks.
Features:
Open Air Block design eliminates unnecessary material and weight
Ball bearings, sheave, and side plates are UV stabilized with carbon black for maximum protection
Patented switch locks shackle in front or side positions, or lets block swivel to keep line from twisting
Designed for use with:

Main/jib sheets
Mainsheet fine-tune
Control lines
Vangs
Cunninghams
Outhauls
Specifications:
Maximum Working Load: 300 lbs (136 kg)
Breaking load: 1000 lbs (454 kg)
Weight: 1.7 oz (49 g)
Sheave diameter: 1 9/16" (40 mm)
Maximum line size: 3/8" (10 mm)
Note: do not use Harken Equipment for human suspension.
Part Numbers for Harken 40 mm Carbo Air Block - 2608