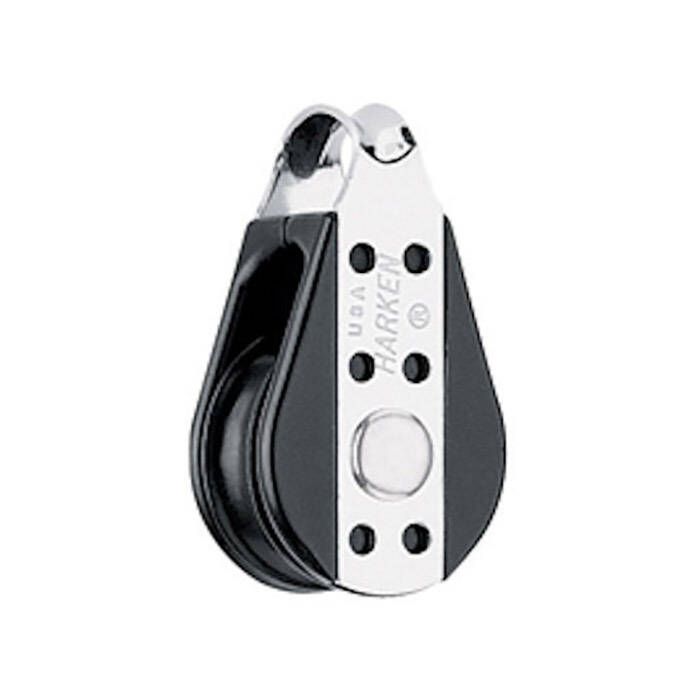 Harken 29 mm Bullet Block - 082
Item # 868568
Description
The Harken 29 mm Single Bullet Block is a low-friction block that leads control lines aft. They are compact and lightweight, with fast trim and release under high or low loads.
Features:
Compact and lightweight
Fast trim and release under high or low loads
Blocks adapt to almost all control line applications
Delrin ball bearings, sheave, and side plates
UV stabilized with carbon black for maximum protection
Wire bullet blocks use roller bearings to carry higher loads
Feature Hardkote-anodized Teflon impregnated aluminum sheaves
Strength and corrosion resistance
Mast exit blocks with cams used for halyard controls and under boom mainsheets
Pivoting exit blocks with cams are used for halyard controls and as head knockers for sheeting directly from the boom
Designed for use with:

Outhauls
Barber haulers
Traveler controls
Flag halyards
Vangs
Cunninghams
Furling line leads
Specifications:
Maximum Working Load: 300 lbs (136 kg)
Breaking load: 2000 lbs (907 kg)
Weight: 1.0 oz (28 g)
Sheave diameter: 1 1/8" (29 mm)
Maximum line size: 5/16" (8 mm)
Note: do not use Harken Equipment for human suspension.
Part Numbers for Harken 29 mm Bullet Block - 082