General Ecology Seagull IV X-1F Water Purifier with FP Ceramic Disc Faucet - 732000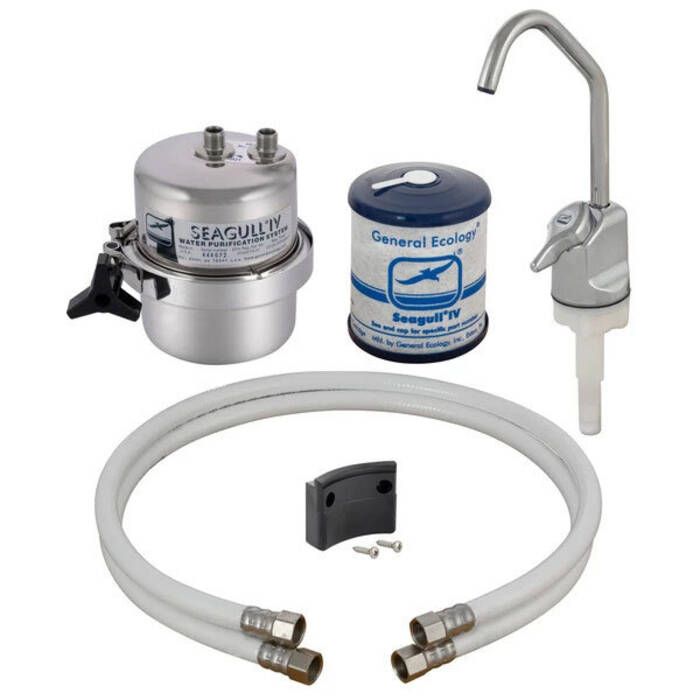 General Ecology Seagull IV X-1F Water Purifier with FP Ceramic Disc Faucet - 732000
Item # 866658
Description
General Ecology Seagull IV X-1F Water Purification System with FP Ceramic Disc Faucet
System includes:
Stainless steel pressure vessel
"Quick and Easy" pressure-proof installation lines
Ceramic disk faucet
RS-1SG Structured Matrix™ cartridge
Mounting hardware
Features:
Award-winning 1 GPM undersink purifier with dedicated chrome finish faucet
All Seagull IV purification systems are independently certified to meet EPA Guide Standard Protocol for microbiological purifiers against bacteria, cysts and viruses – without chemical treatment
System excels at removing chemical and aesthetic contaminants including herbicides, pesticides, chlorine and foul tastes, odors and colors for great tasting water on demand
Quick and easy installation
Specifications:
General Ecology Model No. 732000
Flow Rate: 1 GPM
Avg. Cartridge Capacity: 1000 gal.
Particle Retention Rating: 0.4 micron
Working Pressure: 25 - 125 psi
Working Temperature: 33 - 100°F
Pressure Vessel Construction: stainless steel, lead-free ports
Dimensions: 5" dia. x 5.375" H
Performance may vary depending on characteristics and concentrations of contaminants, and inlet water pressure.
Part Numbers for General Ecology Seagull IV X-1F Water Purifier with FP Ceramic Disc Faucet - 732000