General Ecology Dockside Prefiltration System - 610000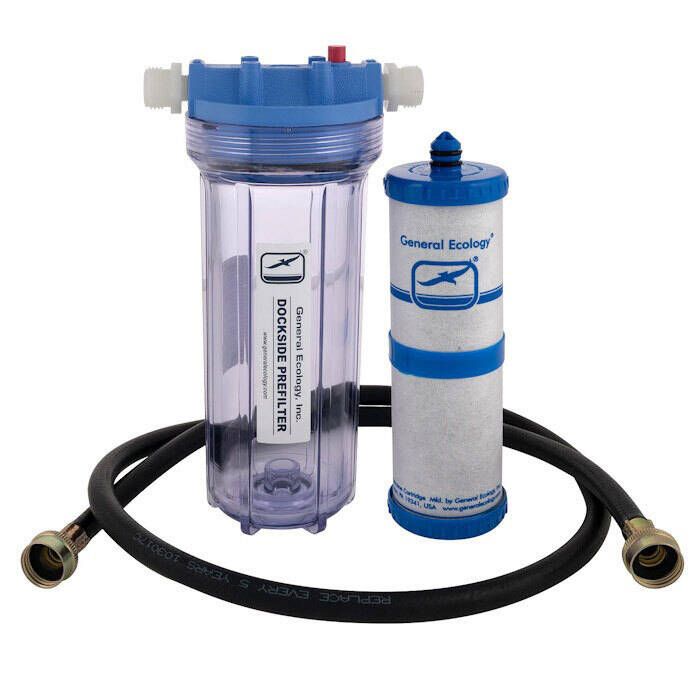 General Ecology Dockside Prefiltration System - 610000
Item # 866652
Description
General Ecology Dockside Prefiltration System
System includes:
Durable thermo-engineered housing with inlet / outlet hookup
No. 10 Aqua-Polish® microfilter cartridge
3 1/2 ' connection hose with standard 5/8" external garden hose fittings
Features:
System prefilters fresh water from dockside or marina sources while filling potable water storage tank
Effectively removes troublesome particulates before they enter your water storage tanks – without chemicals, electricity, multiple pass-through, or hold time
Preserves and extends life of onboard equipment including Seagull IV water purifiers
Removes abrasive sand, dirt, scale and suspended particulates
Removes foul taste and odors, but does not remove viruses, bacteria or cysts
Removes Chlorine, prevents corrosion of aluminum tanks
Quick and easy set-up
Specifications:
General Ecology Model No. 610000
Avg. Cartridge Capacity: 5000 Gal @ 6.5 GPM Flow Rate
Particle Retention Rating: 1 micron
Working Pressure: 10 psi
Working Temperature: 33 - 100°F
Dimensions: 4.5" dia. x 12.5" H
Note: Dockside Prefilter is a filtering device – it is not intended to remove microbiological contaminants. Performance may vary depending on characteristics and concentrations of contaminants, and inlet water pressure.
Part Numbers for General Ecology Dockside Prefiltration System - 610000