Furuno NavPilot 300PG Autopilot Package with Fluxgate Heading Sensor - NAVPILOT 300/PG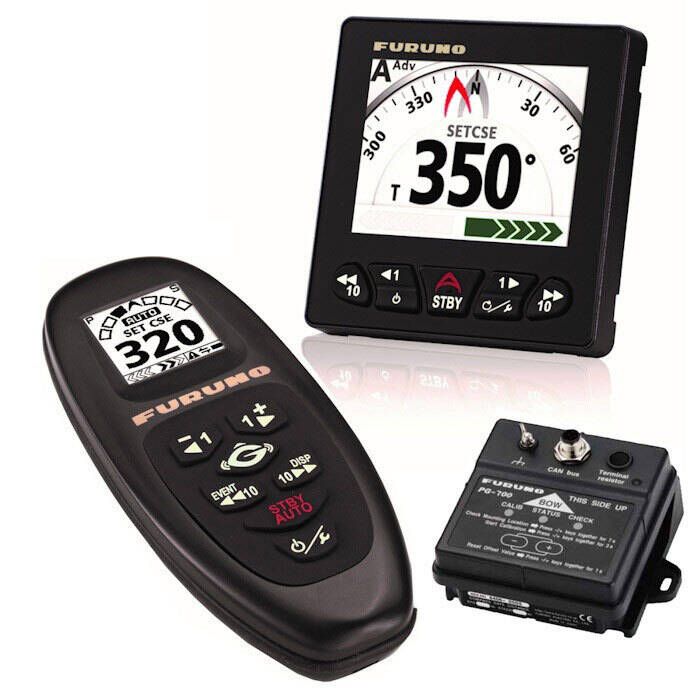 Furuno NavPilot 300PG Autopilot Package with Fluxgate Heading Sensor - NAVPILOT 300/PG
Item # 866426
Description
The NavPilot 300PG includes all the components of the NAVPILOT 300 and a PG700 Fluxgate Compass Heading Sensor with magnetic field distortion correction, providing highly accurate and stable heading information.
Features:
The Furuno PG700 Fluxgate Magnetic Heading Sensor with the enhanced stability of a solid-state rate gyroscope provides a stable and accurate heading for your CAN bus devices. Automatic magnetic field distortion correction provides highly accurate and stable readouts of your ship's heading. The sensor detects terrestrial magnetism and produces compass data in NMEA2000 format to Furuno CAN bus devices. Typical applications include true radar echo trail and true motion, autopilots, video plotters, scanning sonars and more. These sophisticated components are contained within a rugged, compact case. The supplied L-bracket allows for flexible installation. Unique design elements make the PG700 virtually maintenance-free and easy to install.
The Furuno NavPilot 300 is a revolutionary autopilot that offers Versatile Display Modes on a vivid, 4.1" color LCD display.
With Fantum Feedback NavPilot outboard installations no longer require use of a physical rudder feedback unit. This results in a streamlined, simplified installation. Combined with Furuno's unique adaptive learning technology, NavPilot 300 provides unmatched outboard autopilot performance. Fantum Feedback is designed for planing and semi-displacement outboard vessels from 24 to 50 feet with one to four outboard engines, and provides precise course control from slow trolling to speeds of well over 60 knots.
Gesture Control Unit: Just push, point and shoot! The Gesture Controller is a revolutionary and unique way to steer your boat remotely. By using Bluetooth signals, it is possible to control the autopilot from anywhere on the boat within 32 feet (10 meters). Just push, hold the button, point to the desired heading and release to let the Autopilot redirect the boat!
The SABIKI™ mode lets the autopilot control while you are drift fishing astern, so you can focus on fishing instead of steering. Maintaining heading astern while compensating for wind and tide, SABIKI mode is uniquely tailored for Sabiki style fishing, jigging and bottom fishing. Other display modes include Furuno's Highway mode, Auto and Advanced Auto modes, and Fish Hunter mode, which allows one of four pre-programmed maneuvers to be performed around a specified target at a user selected distance. These include zig-zag, orbit, figure 8, or a spiral maneuver. The Fish Hunter feature can also be used for Man Overboard (MOB).
Safe Helm function temporarily switches the NavPilot to manual steering for a specified time interval.
Power Assist reduces steering system complexity and costs while increasing fuel efficiency. Power Assist is a unique, helm-activated assisted steering feature that can augment and possibly replace separate electric and power-robbing, engine-driven power steering systems on many vessels.
Specifications:
Control Unit

Display 4.1" Color LCD
Effective Display Area 85.2 (W) x 85.2 (H) mm
Pixel Number QVGA (320 x 240)
Backlight 700 cd/m2 typical

Processor Unit

Steering modes:

Stand-by, Auto, Dodge, NFU (Non-follow up) and Turn
Advanced auto, Navigation, FishHunter ™ and Override (External data required)

Sea Condition Adjustment Auto/Manual-Calm/Moderate/Rough
Alarm Deviation alarm, Watch alarm

Interface

Ports NMEA2000 x1, CAN bus x1 (DBW control) Control signal x3, Bluetooth
Input 059392/904, 060160/416/928, 061184, 065240,126208/464/720/992/996, 127237/250/258, 128259,129025/026/029/283/284/285/538, 130577/818/821/827/841
Output 059392/904, 060928, 126208/464/720/993/996/998, 127237/245, 130816/821/822/823/827/841

Waterproofing

Processor Unit IP55
Control Unit IP56
Gesture Controller IP65/67

Electrical

Power Supply

Processor Unit: 12-24V DC, Draw: 0.22A max
Control Unit 15V DC, Draw: 0.29A max
Gesture Controller 3V DC, Dry cell battery (2 AAA Batteries)
In the Box:
NavPilot 300 Control Unit - FAP3011
NavPilot 300 Processor Unit - FAP3012
NavPilot 300 Gesture Controller - GC001
NMEA2000 Rate Compensated Heading Sensor w/ 6M NMEA2000 Cable - PG700
Compatible Displays:
TZTL15F - NavNet TZtouch2 15.6" Multi Function Display
TZTL12F - NavNet TZtouch2 12.1" Multi Function Display
TZT14 - NavNet TZtouch 14.1" Multi Function Display
TZT9 - NavNet TZtouch 9" Multi Function Display
GP-1971F - GPS/WAAS Chart Plotter with CHIRP Fish Finder
GP-1871F - GPS/WAAS Chart Plotter with CHIRP Fish Finder
Cables: (Sold Separately)

000-167-968 - NMEA2000 Mini Cable, 3' 3" (1 meter), Male-Female connectors
000-167-969 NMEA2000 Mini Cable, 6' 6" (2 meters), Male-Female connectors
000-167-970 NMEA2000 Mini Cable, 19' 8" (6 meters), Male-Female connectors
001-105-780-10 NMEA2000 Micro Cable, 3' 3" (1 meter), Female connector (straight) + Pigtail
001-105-790-10 NMEA2000 Micro Cable, 6' 6" (2 meters), Female connector (straight) + Pigtail
001-105-800-10 NMEA2000 Micro Cable, 19' 8" (6 meters), Female connector (straight) + Pigtail

Autopilot Pumps (Not Inlcuded, Sold Separately)

PUMPOCT06-12 1600CC/MIN OCT PUMP 12V
PUMPOCT10-12 1000CC/MIN OCT PUMP 12V
PUMPOCT16-12 1600CC/MIN OCT PUMP 12V
PUMPHRP05-12 0.5 CUBIC INCH P/SEC PUMP 12V
PUMPHRP05-24 0.5 CUBIC INCH P/SEC PUMP 24V
PUMPHRP11-12 Autopilot Pump, 12V DC, 1.1 cu.in. Per Second (For Ram Sizes of Up to 13 cu.in. in Volume)
PUMPHRP11-24 Autopilot Pump, 24V DC, 1.1 cu.in. Per Second (For Ram Sizes of Up to 13 cu.in. in Volume)
PUMPHRP17-12 Autopilot Pump, 12V DC, 1.7 cu.in. Per Second (For Ram Sizes of 14 cu.in. to 25 cu.in. in Volume)
PUMPHRP17-24 1.7 CUBIC INCH P/SEC PUMP 24V

Accessories: (Sold Separately)

FAP3011 CONTROL UNIT NAVPILOT 300
GC001 NavPilot 300 Gesture Controller
AIR-052-531 NMEA2000 T-Connector, Female/Female/Male
AIR-335-791 NMEA2000 Micro Terminator, Male
AIR-335-792 NMEA2000 Micro Terminator, Female
FI5002 Junction Box - NMEA2000
FPS8 NavPilot 700 Series Power Steering Module
FAP6112 Rudder Reference Unit for NavPilot
PG700 NMEA2000 Rate Compensated Heading Sensor w/ 6M NMEA2000 Cable
000-033-337-00 Bracket Kit for NavPilot 300
000-027-162-00 YAMAHA HM GATEWAY
000-022-971-00 VOLVO-IPS GATEWAY W/O IF UNIT
Part Numbers for Furuno NavPilot 300PG Autopilot Package with Fluxgate Heading Sensor - NAVPILOT 300/PG