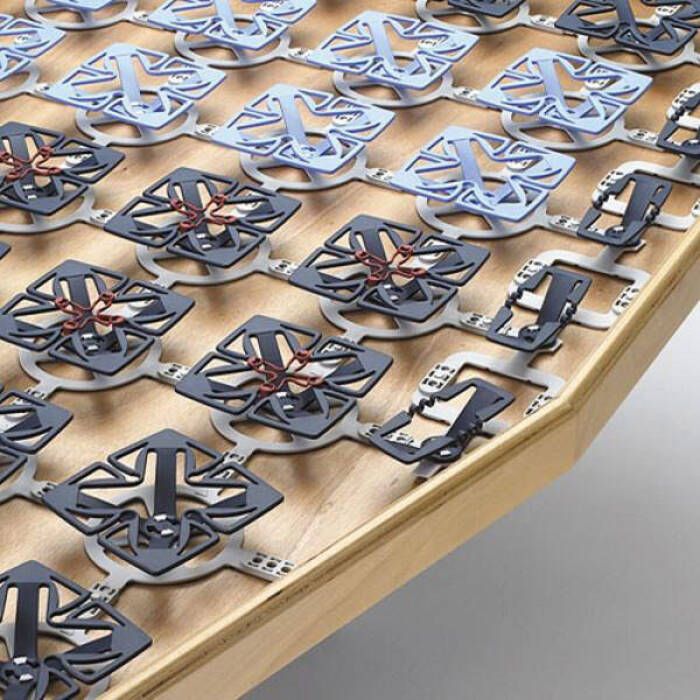 Froli Sleep Systems
Item # 866233
Description
Froli's Travel is a very versatile and low-profile sleep system for any bed size or shape. It fits perfectly into angular or rounded bed shapes, plus the under-mattress air flow helps prevent condensation and mildew.
Features:
Comfortable sleep system with the perfect fit for any bed shape

Including irregular shaped beds

Springs are available in standard and small sizes to enable precise fitting into the space
Box-spring system provides an innovative foundation for pressure relief and comfort
Ingenious lock-in mechanism on the base elements lets you place the springs to accommodate various angles and curves
Low installation height makes it especially suitable for alcove beds and wherever headroom is at a premium
Dimensions:

Large elements: 5-1/4" x 5-1/4" (138 x 138 mm)
Small elements: 5-1/4" x 2-1/8" (138 x 54 mm)
Height: 1 3/8" - 33 mm

Maximum up-and-down Flex: 1" (25mm)
Firmness Zones: 3
Spacing Options: 3
Recommended for: All bed sizes, rectangular and irregular shapes, boats, RVs, platform beds, "Murphy" beds, hide-away beds
General Features:
Base elements that clip together
The springs sit individually on top of these bases and provide independent suspension
Individual spring elements are firmness adjustable for a customized feel

The springs generally come in regular and soft versions

Plus, the spacing distance is variable:

Clipped tighter together results in a firmer feel vs. the medium or wide setting, which feels softer
In addition, there are "tension clips" or "lordosis inserts" which may be added selectively to individual springs to increase their firmness
This is particularly helpful when adjusting for lower back support

They create an "articulated air-flow surface"

An "articulated air-flow surface" adapts to your body shape and movements
Permanent under-mattress ventilation promotes a recuperative sleeping environment and helps eliminate moisture buildup

The modular system for any size and shape bed is made up of many individual springs that flex and adapt to your body shape, weight, and movements

V-Berth Kits Available

These popular kits include a combination of soft, regular, and small elements, plus tension clips for common v-berth sizes

Height:

Height helps determine the range of up-and-down flex
This, in turn, translates into comfort
A spring with more flexing will adapt better to your body and generally feel softer

Condensation issues

If eliminating moisture is your main concern and your mattress feels otherwise comfortable, then it makes sense to choose the lowest height model
Allows for plenty of air to circulate under your mattress

No more "bottoming out"
For Square or rectangular shapes:
Total Square Inches = Square Feet x 144 Divide the total Square Inches by the length of longest side in inches. The result is the length of the shortest side in inches
Example: Total Square inches = 27sq.ft. x 144 = 3,888 sq.in. (for the Double Birth) Longest side 74" inches (divide: 3,888 sq.in. / 74 in. = 52.5 in.) Shortest side = 52.5"
We suggest using graph paper to determine square inches of irregular shapes.
Note: Mattress Not Included
Part Numbers for Froli Sleep Systems
Reviews
Rated

5

out of

5
by
Anonymous
from
Excellent addition to a sailboat!
Froli large v berth system solved moisture problem under mattress! It also made bed more comfortable which saved us from having to purchase mattress topper.
Date published: 2023-02-28