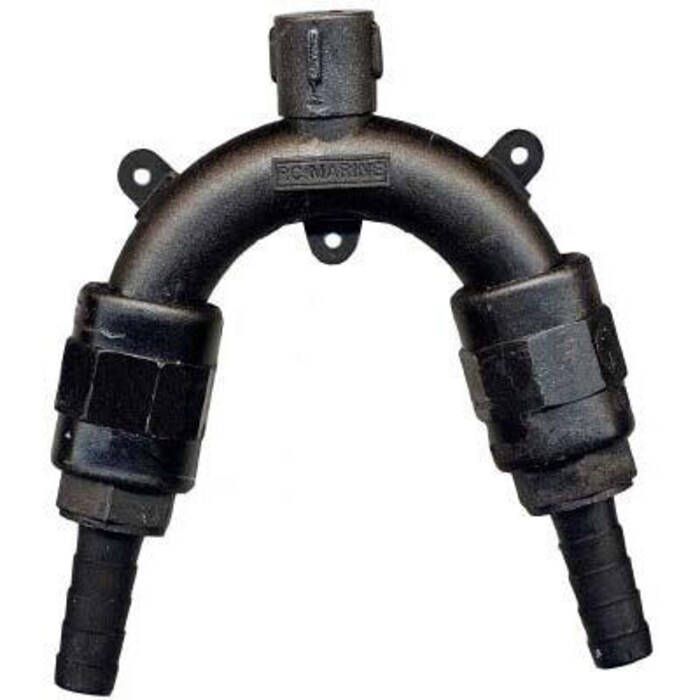 Forespar Vented Loop
Item # 866142
Description
Vented loops are a vital component in any onboard plumbing system. Without them, the risk of flooding or sinking is greatly increased because water can be back siphoned into your boat from the outside. Back siphoning can occur through any onboard tank, engine, head or bilge system that utilizes a through-hull intake. Vented loops are designed to break-up any back siphon, keeping the boat high and dry.
Forespar Marelon Vented Loops / Anti Siphon Valves keep water (or other fluids-but not fuels) from siphoning back into tanks or back into the bilge by allowing air to enter the line and breaking the siphon effect. Whether you are using them on a head discharge system to the holding tank, on a bilge pump outlet overboard, an aqua-lift system on the engine, Gen-Sets, air conditioners, ballast tanks or other equipment, vented loops can stop the dangerous siphoning back of fluids after the pump is turned off. Forespar®, is the worlds largest producer of marine vented loops and offers the widest range of sizes.
Features:
Installing one of Forespar's vented loops will ensure that fluids will not siphon from tank to tank
Vented loops are commonly used in the marine toilet system and engine cooling system
The simple valve system incorporated in the top of the loop allows air to enter the line when not in use, yet effectively seals as water or other fluid passes through
Molded in Marelon®, neither vent nor loop will corrode
The duckbill one way valve is designed to seal properly if particulate is present in fluids
This option allows venting to the outside of the hull via a 1/4" (6.35 mm) hose
Marelon® plumbing fittings have NPT parallel threads:

The threads can be sealed with Teflon® tape or plumber's dope
Marelon® can be used with any marine grade sealant or bedding compound, using the same techniques as with bronze fittings
Bronze and Marelon® fittings can be fitted together
Caution not to cross thread

Temperature Range:

Marelon® has an excellent operating temperature range from -40º to +176º Fahrenheit

Maintenance:

Maintenance is simple
Simply activate the valves on a regular basis and lubricate with winch grease, Lanacote®, or water pump grease twice a year
Marelon® is UV stabilized and will not deteriorate in sunlight
Note: All vented loops are designed to have fluids "pushed" through them. If you try to "pull" through a vented loop, you will pull air into the line and not move the heavier fluid. Be sure the pump is on the correct side of the vented loop. The loops themselves are not directionally sensitive. The vent caps ( Order 903002 MF 841 for Replacement Caps) have a one-way duck-bill style valve inside. These caps can be replaced with an Optional 1/4" Hose Barb ( 903004 MF-846 Vent Barb Assembly) if desired. Note that if the optional hose barb option is used, the duck bill one-way valve is eliminated
Note: Forespar threaded plumbing fittings, like most true marine plumbing fittings, use NPSM threads (National Standard Free-Fitting Straight Mechanical Pipe Thread). NPT (National Pipe Threads) are tapered, NPSM Threads are parallel. The two types are not designed to work together.
Part Numbers for Forespar Vented Loop