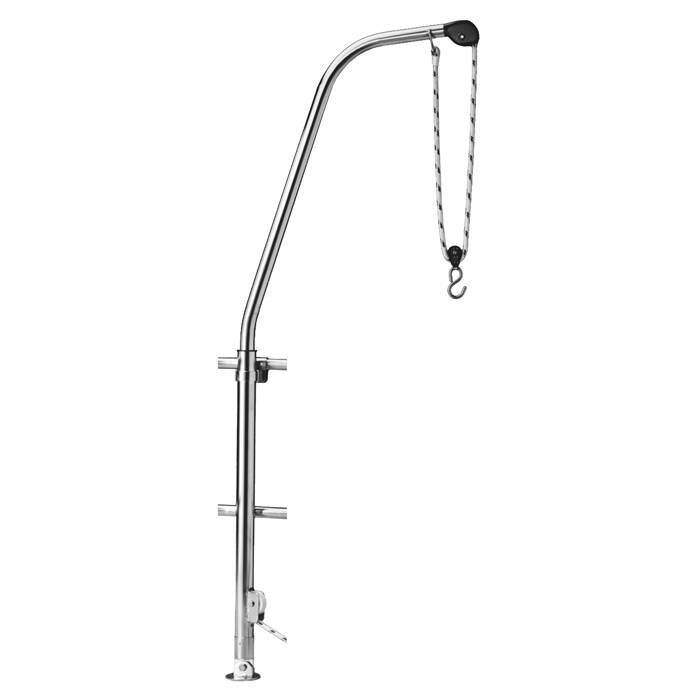 Forespar Nova Lift - 153311
Item # 866057
Description
Designed specifically to handle the task of loading and unloading heavy stores and equipment from boats, the Nova Lift can be easily installed on almost any sailboat and works in conjunction with your existing winch. You can now lift a 15 hp outboard easily and safely with far less risk to the topsides, even if performing the task singlehanded. No longer risk overnight loss of your valuable outboard in an unsavory anchorage because it was too much of a struggle to haul aboard that night.
Features:
Lift and lower heavy and awkward equipment with ease, including outboard motors, dive equipment, batteries, fuel & water jugs, even pets - the list of uses is endless
Complements all man overboard recovery systems for emergencies
Unique design allows the arm to be installed and ready for use in a matter of seconds
Patented self-feeding tube allows line to be quickly rigged
No messy block and tackle system
Internally run load line allows the arm to be easily rotated 360 degrees under full load
Robust, versatile stainless steel rail clamps and deck mounting hardware provide a simple, secure installation on virtually all vessels
Electro polished stainless steel, quality sheaves, special cast end fitting, machined bushing and guides
Lower mounting tube that will accommodate 30" height rails

Vessels with rails higher than 30" will require the use of a deck pad (not included) to raise the installation to the proper height

Using a Harken 32 Two-speed winch (not included) with a 10" handle (not included) will require only 13 lbs of winch handle pressure to lift 200 lbs
Specifications:
Material: Electro polished 304 stainless steel
Max. working load: 220 lbs
Rotation: 360
Mounting hardware: Not included
In the Box:
All rail and deck mounting hardware
30 feet of 3/8" Sta Set line
Harken swivel block and special deep throated S hook
Note: Winch not included.
Part Numbers for Forespar Nova Lift - 153311