Forespar Marelon T-150 Raw Water Strainer - 906166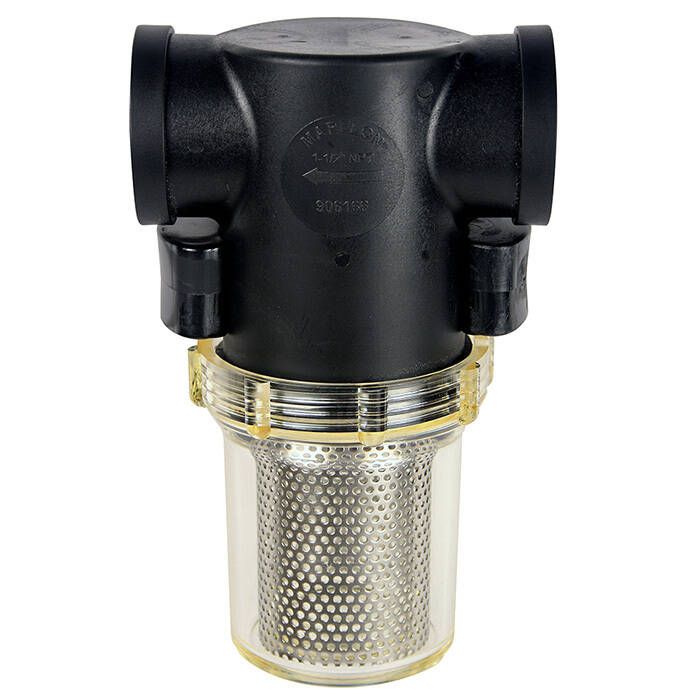 Forespar Marelon T-150 Raw Water Strainer - 906166
Item # 865995
Description
Features:
Forespar T-Strainer Raw Water Filter was developed to provide an installation alternative to Forespar's original MF 810 Raw Water strainer
The screw on clear bucket has a replaceable gasket for a positive seal and ease of cleaning
The T-150 was tested to -25 inHg vacuum and held for over 60 minutes using only Teflon tape on the threaded connections
It was subjected to a vibration test of 50,000+ cycles at 1400 cycles per minute for over 35 minutes with no leaks
Ports: 1-1/2" Female NPSM

The 150 raw water strainers have 1 1/2" female NPSM (parallel threads) ports to which you can attach a straight or 900 hose barb tailpipe as needed
Marelon reducers are available to go from 1 1/2" hose to 3/4" hose if needed

40 GPM Rated
Stainless Steel Screen
Marelon Head
Clear Polycarbonate Bowl
Includes Mounting Bracket

The included mounting bracket requires (2) 1/4" fasteners (not included) to firmly mount to a bulk head or stringer
Allows the "T" head to be rotated as needed
A flat washer under the fastener heads is recommended
Bracket allows ports to face in any direction

Maximum 150 psi @ 70° F and 100 psi @125° F. (Not designed for pressure spikes exceeding max psi)
Up to 25 in Hg vacuum
Mesh Size: #8
A seacock is required on the intake thru-hull in the hull and it is advisable to have an inline valve on the back side (outlet) as well so the unit can be completely isolated for basket removal and cleaning without having backflow spillage into your bilge

The "T" head should be above the waterline
Note: Forespar threaded plumbing fittings, like most true marine plumbing fittings, use NPSM threads (National Standard Free-Fitting Straight Mechanical Pipe Thread). NPT (National Pipe Threads) are tapered, NPSM Threads are parallel. The two types are not designed to work together.
Part Numbers for Forespar Marelon T-150 Raw Water Strainer - 906166