FireBoy-Xintex Manual/Automatic Fixed Fire Extinguishing System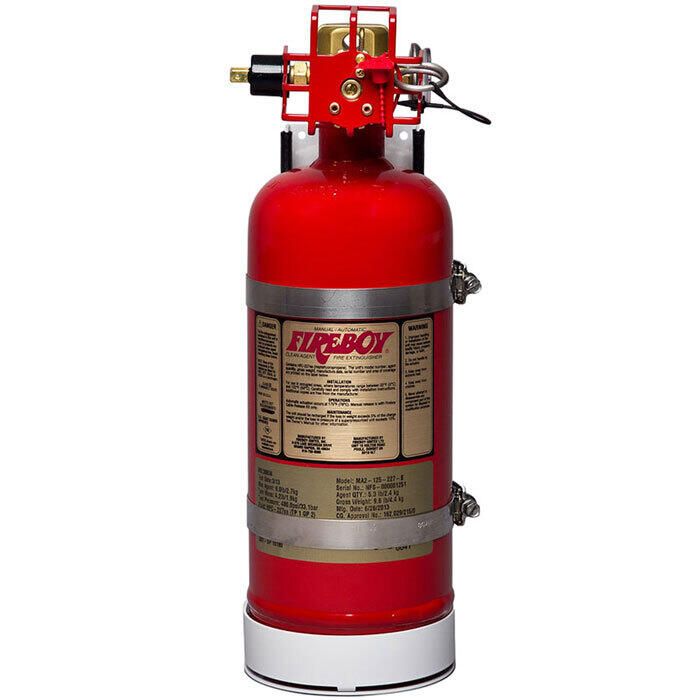 FireBoy-Xintex Manual/Automatic Fixed Fire Extinguishing System
Item # 933948
Description
FireBoy-Xintex's Manual / Automatic Discharge Fire Extinguishing System stays on guard, 24 hours a day and is the safest way to combat a fire. It offers unrivaled clean agent fire suppression for maximum coverage in engine compartments and machinery spaces through FK-5-1-12 clean extinguishing agent.
Features:
Discharge is automatic at 175° F (79° C) for round-the-clock engine compartment fire protection
Total flooding of the engine compartment in less than 10 seconds for fast smothering of the fire
FK-5-1-12 clean extinguishing agent leaves no harmful residue to clean up

Very low Global Warming Potential (GWP <1)
Low toxicity in a properly designed system (no harm to personnel)
Approved for marine use worldwide (EPA, SNAP, European)

Easy to read color coded pressure gauge on cylinder identifies "charged/discharged" status
Rugged industrial designed pressure gauge issues trouble free performance
Approved for Class B fires in engine compartments, machinery spaces and similar industrial applications
Specifications:
Automatic discharge temperature: 175° F
Clean agent chemical: FK-5-1-12
System pressure (@ 70°): 360 PSI
Dimensions: 3.3" Diameter x 12.4" Height
Included:
(1) Fire extinguisher
Powder coated mounting bracket with stainless steel straps
2" Helm display
Owner's manual with installation instructions
Note: Fireboy's Manual Discharge Cable allows for the manual discharge of an MA system (not included, sold separately).
Part Numbers for FireBoy-Xintex Manual/Automatic Fixed Fire Extinguishing System