Fell Marine MOB+ Basepack Wireless Man Overboard System - 72-380-206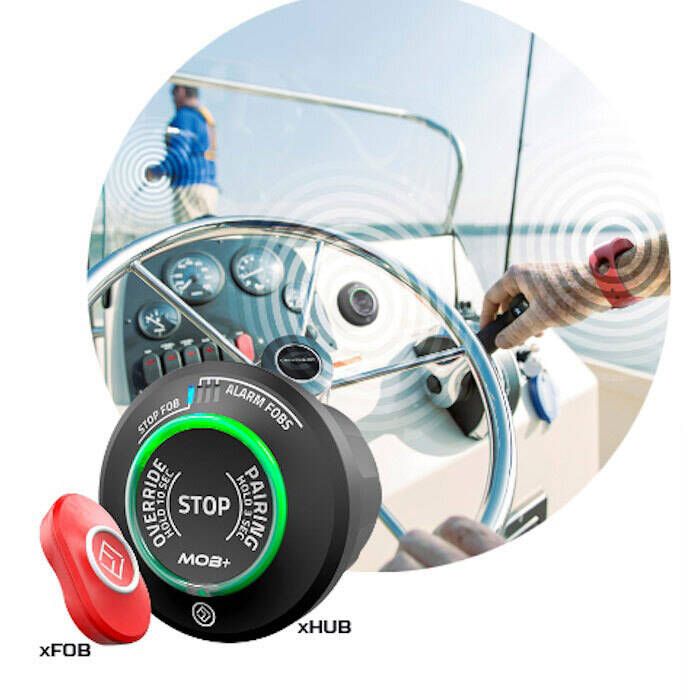 Fell Marine MOB+ Basepack Wireless Man Overboard System - 72-380-206
Item # 865618
Description
The MOB+™ Wireless Man OverBoard System (MOB) is an innovative, ABYC compliant, life-saving safety device for your boat. It provides greater freedom of movement than a traditional kill switch lanyard, and stops the engine should you fall overboard. Up to four xFOB's can be connected to the xHUB at the same time, with one unit acting as the captain's stop unit, and the additional three as alarm units for passengers. The system consists of an easy to install xHUB™ (mounted on or near the boat console) and a wearable xFOB™. The two communicate wirelessly with each other and stop the engine when the xFOB is submerged in water or is beyond range of the xHUB. The xFOB™ can be worn on your wrist, around your neck, or clipped to your PFD using either our xBAND™ or xTAG™ accessories. The waterproof xFOB™ has more than 300 hours of battery life, and is powered by an easy to change standard coin cell battery. The xHUB™ connects to your boat power (12V-24V) and to your engine stopping system. Intuitive and easy to use through a one-click user interface. Compatible with all major Outboard and most Sterndrive engine brands.
MultiFOB: Connect up to four people to at the same time. Choose to connect an AlarmFOB with alarm only, or stop and alarm functionality. This unique feature enabled with the revolutionary WiMEA Protocol allows you to have any combination of alarm or stop functionality for your passengers, crew or pets onboard. Easily switch pilots while driving, secure any kids or pets onboard with either an alarm or have the engine stop if they fall overboard.
MOB Mode: MOB Mode (Man Overboard Mode) is the safety mode of the system. MOB+ will automatically activate shut down of the engine when the STOP FOB is submersed in 4 inches (10 cm) of water or travels out of range from the xHUB. When a FOB goes overboard, the xHUB sounds an alarm and flashes red in the light circle accompanied by flashing on the respective FOBs indication bar. This allows for identification of which of the connected FOBs that has fallen overboard. After 6 seconds, the system automatically activates Override Mode. In Override Mode, any passenger or crew on board can restart the engine without the need to interact with the MOB+ system. This allows for a quick recovery of the missing person in the water and enhances safety.
dStart: Enhanced man overboard safety feature; The system automatically reengages the kill switch 6 seconds after a man overboard event, to allow any remaining passengers on board to restart the engine as normal without having to engage with the xHUB in the boat.
Secure Marine Wireless: The WiMEA® (Wireless Marine Electronics Algorithm) is a highly advanced marine security protocol and digital data processing system utilizing high-speed link and Unique ID Technology. It operates across several frequency channels and has 4D Antenna Diversity to avoid interference and unintended signal blocking. This makes it virtually impossible for any other wireless system to interfere with the operation of a WiMEA Wireless System. With the WiMEA Protocol all boaters can enjoy full freedom and safety for the first time, with 100% reliability.
Override Mode: In the event that you forget your xFOB or if it´s out of battery don´t worry. You can easily override MOB+ by holding the button on the xHUB for 10 seconds. The xHUB will give a sound signal and a yellow light signal every 30 seconds to indicate Override Mode is activated so you can start the engine(s).
Light and sound: xHUB gives colored light and sound feedback when selecting different modes (Pairing, Connection, Alarm Mode on FOBs, Stop Mode on FOBs, Disconnect, MOB Mode, Override Mode).
Specifications:
MultiFOB system: Connect up to four people to at the same time (Extra Fobs sold separately)
xHUB is wired to the Boat's 12-24V DC power, and to your current kill switch wires
Voltage source: 10-32V DC
Power consumption:

Active Mode: 180mA (2.5W max. at 13.8V DC)
Standby: <30mA, <0.4W max. at 13.8V DC
Fuse: 1A - 3A

Alarm decibel level: >85db
Kill Switch Relay Max Current Tolerance: 5A continuously
Wireless protocol: WiMEA
Compliant with ABYC A-33, E11, CE and FCC
xHUB Power Consumption:

Active Mode: 180mA (2.5W max. at 13.8V DC)
Standby: <30mA, <0.4W max. at 13.8V DC

Frequency US: 915 MHz
RF Signal (in) 10 dBm max
RF signal (out) 10 dBm max
4D Antenna Diversity
xHUB requires a standard 2-1/16" Dia. opening for mounting on console or a bracket
Certifications and Compliance

Radio xFOB US: FCC Part 15C
EMC xFOB US: CISPR 16-1
Flammability xFOB CE-UL94
Immersion xFOB IP68 >3m water resistant
Immersion xHUB IP67 >1m water resistant
RoHS (2002/95/EC) compliant materials
ABYC A-33 compliant

xFOB can be worn using either the xBAND or xTAG accessories sold separately
In the Box:
(1) xHUB with antenna
(1) xFOB with battery
(1) Connection wiring harness
(7) Bullet splice electrical connectors
Note: Complies with new USCG Engine Cutoff Switch requirements. Additional information is available at: https://uscgboating.org/recreational-boaters/engine-cut-off-devices.php
Part Numbers for Fell Marine MOB+ Basepack Wireless Man Overboard System - 72-380-206