Faria Chesapeake White SS Depth Sounder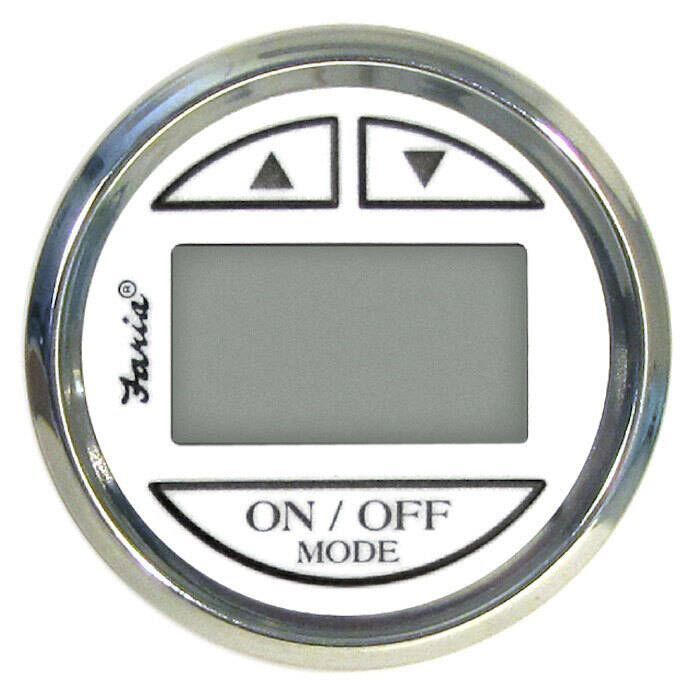 Faria Chesapeake White SS Depth Sounder
Item # 865540
Description
Faria® Chesapeake White SS Depth Sounders use the latest microprocessor technology and proprietary software designed to take advantage of today's high-performance transducers .
Features:
Functions:
Depth from 3 - 199 ft. (1 - 61 m)
Audible / visual shallow and deep water alarms
Programmable keel offset (depth below keel) – adjustable at the display
Automatic gain control
Backlighting for optimum night vision
Depth can be read in feet or meters
Easy to install, fits standard gauge cut-out for installation
Made in the U.S.A.
Specifications:
Style: Chesapeake White SS
Gauge Face Color: White
Bezel Color: Stainless steel
Display: 3-character LCD with red backlighting
Operating Voltage: 10 - 16.5 Volt DC
Current Draw: 90 mA max. with supplied transducer
Water Protection: Gauge front will withstand direct water spray
Dimensions (bezel): 2.18" OD
Cut-Out (instrument display): 2.12" dia. x 3" D
Cut-Out (thru-hull transducer): 1-5/8" dia.
In the Box:
Depth Sounder Instrument Display
Transducer with 22 ft. cable (specify transducer type: in-hull, thru-hull or transom mount)
Part Numbers for Faria Chesapeake White SS Depth Sounder