Dr. LED White Polar Star Navigation LED Replacement Bulb - 9000388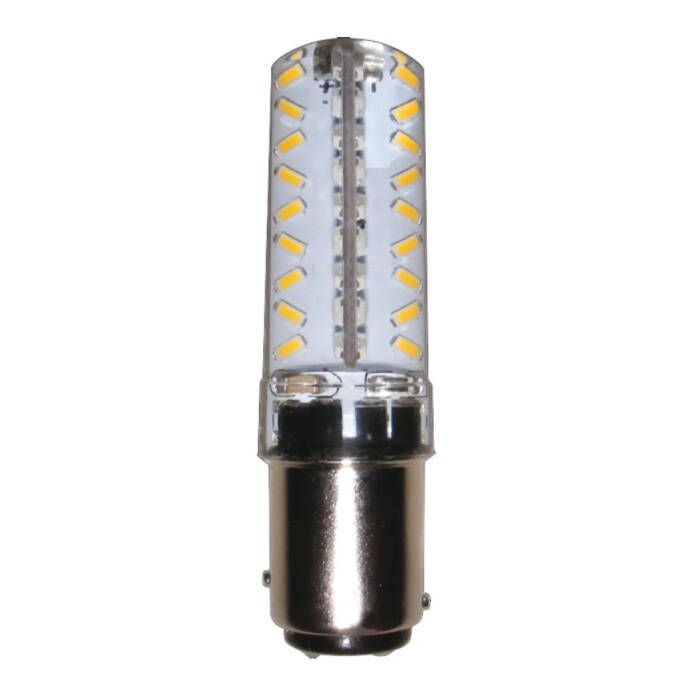 Dr. LED White Polar Star Navigation LED Replacement Bulb - 9000388
Item # 865070
Description
The White Polar Star Navigation LED is a 3 NM visible, 15mm bayonet-base white LED replacement bulb, for use in mast-mounted anchor and steaming lights and stern lights.
Features:
120V 3 NM visibility 15 mm bayonet-base white LED replacement bulb for mast-mounted anchor and steaming lights, stern lights
Replaces existing incandescent bulbs with double-contact, indexed (offset side pins) bayonet-style sockets
Fits Aqua Signal Series 50, etc. - replaces bulb 90286-1
Bulb satisfies all brightness, distance (3 NM), and arc requirements set forth by the USCG for vessels less than 165 ft. in length
Very low power consumption approximately 3W (non-polarized connection)
Internal circuitry provides constant current draw regardless of voltage fluctuations from source
Long service life, shockproof and ultra-rugged with no filament to burn out or break
Specifications:
Base / Socket: Double-contact bayonet 15 mm indexed BAY15D
LED Light Color: Warm white
Color Temperature: 3000°K
Nominal Voltage: 120V AC
Power Consumption: 3W
Regulatory: 3 NM USCG COLREG 1972 ABYC A-16 Certified
Note: LED bulb intended for use behind clear lens
White LED bulbs should not be used behind colored lenses in navigation lights, as they will not produce the required brightness. Only corresponding colored LED bulbs should be used in navigation lights with colored lenses.
Part Numbers for Dr. LED White Polar Star Navigation LED Replacement Bulb - 9000388