Digital Yacht NAVDocter NMEA 2000 Network Diagnostic Tool - ZDIGNAVDOC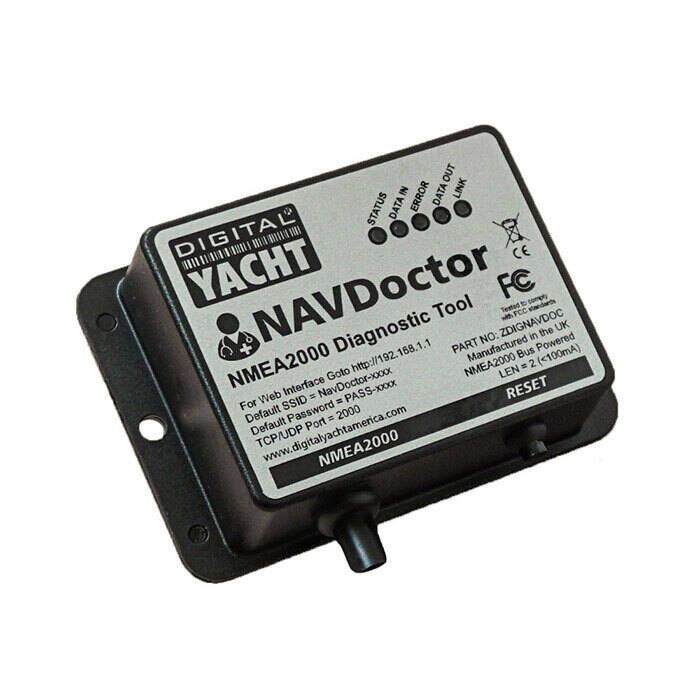 Digital Yacht NAVDocter NMEA 2000 Network Diagnostic Tool - ZDIGNAVDOC
Item # 864861
Description
The Digital Yacht DTV100 is a high performance, Omni-directional TV antenna providing great reception of the latest digital, terrestrial TV signals while afloat.
Features:
Super sensitive design and hi-gain amplifier, bring in even the weakest of signals
Dimensions: 280 mm (11") Dia. x 200 mm (7.87") High
At sea, from shore the DTV100 is good for up 6 miles
Omni-directional - requires no complicated aligning
Provide a feed for an FM stereo radio
Most countries are now transmitting national free to view digital TV channels, some even in HD
With the DTV100's high sensitivity, Omni-directional antenna design and fully adjustable, high gain, powered amplifier (-7 dB to 29 dB), you can tune in to all of them with perfect digital reception
Start taking advantage of free HD digital TV entertainment today and enjoy a few home luxuries on board
Very high performance Omni-directional marine TV antenna Global reception capability of latest DVB/HDTV signals
TV and FM radio outlets
Below deck mounted amplifier with -7 dB to +29 dB gain control
Pole or standard 1" x 14 TPI adaptor mounting capability
Supplied with 10 meter (33 foot ) Coax Cable
Includes Standard Cabin Controller:

(1) TV outlet
(1) FM outlet

Power: 12 / 24V DC

Typical current consumption 25 - 60 mA

Includes (2) TV Outputs and (1) FM) Output
Below deck amplifier has adjustable gain which is very important for good quality signals
Note: ptional Dual TV Antenna Amplifier is Available (not included, sold separately).
Part Numbers for Digital Yacht NAVDocter NMEA 2000 Network Diagnostic Tool - ZDIGNAVDOC