Digital Yacht AIT2500 Class B+ AIS Transponder with USB - ZDIGAIT2500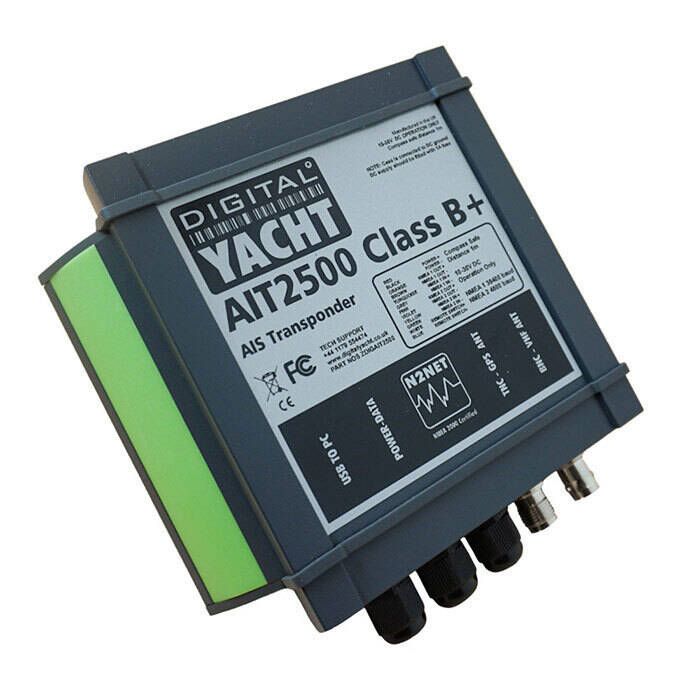 Digital Yacht AIT2500 Class B+ AIS Transponder with USB - ZDIGAIT2500
Item # 864852
Description
The AIT2500 Class B+ AIS Transponder utilizes SOTDMA format transmissions which offers a 5W power output, guaranteeing a time slot for transmission in busy traffic areas and faster update rates depending upon the speed of your vessel.
Features:
Class B+ 5W SOTDMA AIS transponder with GPS/GLONASS positioning
Beneficial for ocean going vessels or boats traveling above 15 knots
SOTDMA technology guarantees a time slot for an AIS transmission
5W Power output - 2.5x more powerful than a regular Class B
Multiple NMEA 0183 in/out and multiplex capability
NMEA 2000 connectivity
USB connectivity for PC/MAC
Remote TX silence switch option (Sold separately)
Supplied with GPS antenna
Options include VHF-AIS antenna splitter, wireless interface (WLN10SM) and AIS SART Alarm (AIS Lifeguard)
Note on SOTDMA Technology
Class B+ is a new generation of AIS functionality based on SOTDMA (self organized TMDA) messaging rather than the simpler CSTDMA (carrier sense TDMA). It guarantees your AIS transmission will get a time slot, even in areas of very high traffic density. It also specifies a 5W transmission power (compared with 2W for Class B) and a transmission rate that increases as the vessel moves faster. The transmission rate is fixed at every 30 seconds when the vessel is moving with regular Class B protocol. It is therefore ideal for ocean sailors requiring the best possible performance and future proof satellite tracking applications, fast power boats and smaller non-mandated commercial vessels.
Part Numbers for Digital Yacht AIT2500 Class B+ AIS Transponder with USB - ZDIGAIT2500