Davis Instruments Shockles Line Snubber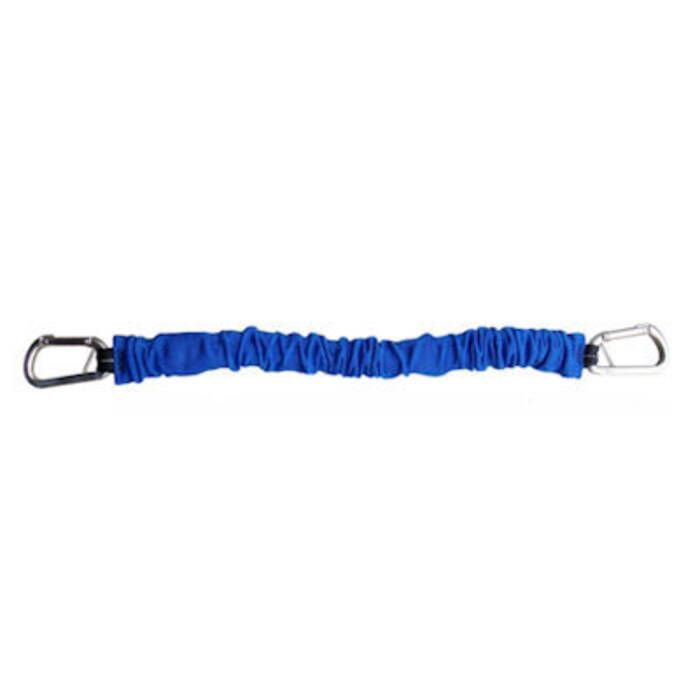 Davis Instruments Shockles Line Snubber
Item # 871932
Description
Features:
Shockles Line Snubbers are the first, best, and only way to reduce dangerous shock loads on your boat
This patented design is a multi-purpose shock absorber, that reduces shock to your lines, cleats, ground tackle and rigging; thereby preserving the life of your boats components in demanding situations
Shockles Line Snubbers will keep a strong, constant pressure on whatever you attach them to, reducing sudden impacts to your tackle and rigging. The result is smooth action and moderated stress
Two (2) Line Snubbers can be used side-by-side on heavier boats
The (2) 316 stainless steel clips on each Shockle offer simple, captive attachment
They can be used to secure loads, keep a dingy on deck from jumping around, ease "snapping" on a tow line, or secure a boom on a trawler or sailboat
Webbing length is 20" (51 cm) when relaxed (overall relaxed length is approx. 24")
The patented Line Stretch Limiter is made from 2500 pound test (1140 kg) nylon webbing
LineSnubber's outer sheath is 3500 pound test (1590 kg) tubular nylon webbing that is UV resistant to protect the internal parts
Progressive Tension Design and Patented Line Stretch Limiter
Progressive Tension Design: Return force is increased the more it stretches
One size fits all braided or twisted ropes from 3/8" to 3/4" (10 mm-19 mm) using a simple clove hitch
Attach to line up to 3/4" using a simple clove hitch in the line or increase line size range from 3/8" to 1" (10 mm-19 mm) by using a LineGrabber (Davis #2460).
Easy to install, adjust or remove
Slack can be quickly and easily increased or reduced as conditions change
Four to eight inches is the recommended line slack
Material:

Made of marine-grade elastomer covered by UV resistant nylon webbing
316 Stainless Steel Carabiners for quick and secure attachment
Applications:
Docking Lines

Clip a Shockle into your docking lines with a clove hitch or LineGraber™ (item 001853) at each carabiner to keep your boat snug against your fenders. Just cinch your docking lines tight as you usually would; as they gradually loosen up over time (which they will always do as they stretch), the Shockle will keep them snug.

Cinching Dinghy to Davits

To keep your dinghy from swinging around when it's up on davits, just clip a Shockle to the bow and stern of it and run them onto the transom of your boat. While a static rope or strap would gradually loosen up over time, the Shockle will keep your dinghy snug against your boat all the time. No more swinging and banging against your boat, especially in rough water.

Towing a Dinghy

Most dinghies don't have a really tough tow ring, especially inflatables and RIBs. As your dinghy is being towed, the constant shock and snapping of the tow line will eventually pull something loose. Simply rig a Shockle on one end of your tow line and the Shockle will take all the pressure as your dinghy drags and surges behind your boat.

Asymmetrical Spinnaker Tack

The very best way to keep your lightweight spinnaker from blowing out in a gust or when it accidentally luffs. Just rig a Shockle from the tack of the spinnaker and when a big gusts suddenly yanks the sail it won't have to absorb that huge shock. Also works great on the spinnaker sheet in gusty conditions.

Boom Tie-Down

When securing your boom at night, instead of cinching down your main sheet, putting stress on the rigging, boom and hardware, leave the mainsheet loose and rig a Shockle on a line from the boom end to an outboard cleat. Keep the boom silent, still and secure in any conditions.

Boom Preventer

Rig a Shockle at your boom end or directly on your preventer to take the shock out of an accidental jibe. Instead of your preventer line snapping taught each time the wind slacks or puffs, you can cinch your boom preventer line taught using the Shockle to let the boom regain proper position without any shock or sail deformation.

Cinching Down the Main Halyard at Night

Rather than releasing the shackle between your main halyard and head of the mainsail each time you lower your sail, simply clip a Shockle onto it and clip the Shockle onto your mast. The Shockle will take the tension off your mainsail grommet as well as help keep your main halyard from slapping against your mast.

Anchoring

Rig a Shockle on your anchor rode to prevent the jarring shock on your anchor, cleats, windlass and leads when a sudden gust hits your boat while at anchor. Use Shockles LineGrabbers™ (item 001853) or clove hitches (on your rode) or clip directly into anchor chain (may not fit chains smaller that 3/8") leaving several inches of slack in between.

Mid-Ship Lazy Sheet Shock Absorber

When sailing downwind, rig the lazy sheet of your jib to a Shockle that is attached to an outboard cleat. This will give you a bit more sail without the use of a pole, and you won't risk jerking the cleat off your boat in a gust. This technique works especially well on catamarans or trimarans, or any boat with a wide beam.
Part Numbers for Davis Instruments Shockles Line Snubber
Reviews
Rated

5

out of

5
by
John
from
Fantastic
These really help on my short dock lines. They also reduce line noise and the boat does not feel jerky at the doc in the wind
Date published: 2023-03-08