Davis Instruments Doelfin Hydrofoil - 440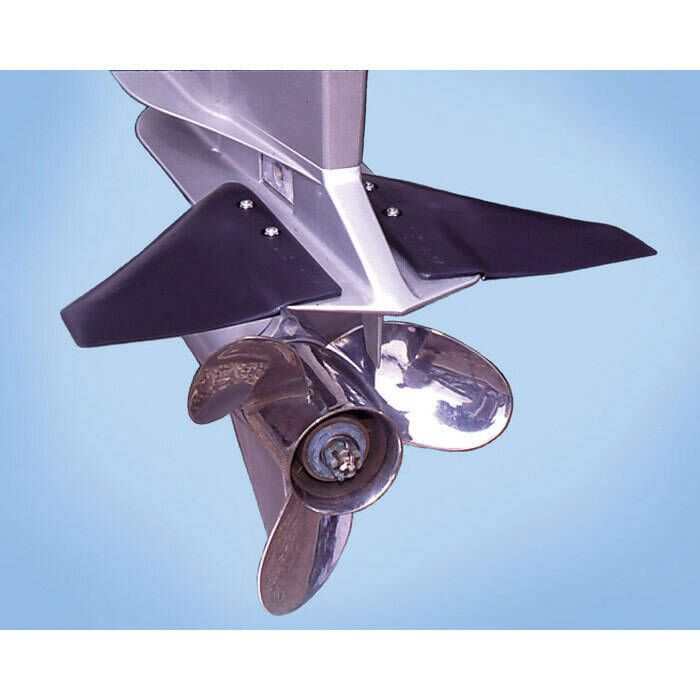 Davis Instruments Doelfin Hydrofoil - 440
Item # 864451
Description
Doel-fin is the original hydrofoil developed by an aeronautical engineer to improve overall performance on all boats with outboard motors or outdrive units. Molded in two pieces, guaranteed unbreakable, high-strength plastic, each foil is designed to flex independently to absorb shock. The positive effects include greater stability, consistent planing at lower rpm, faster out-of-the-hole performance, steadier turns, higher top-end speeds and lower bow rise at all speeds.
Features:
Doel-fin improves performance - even on boats with well designed hulls
Works with all Outboard Motors, Inboard / Outboards Drives ( I/O )and Stern Drives 5 Horse Power and up
Save up to 30% on fuel consumption
Faster 0ut-of-the-hole for happier water skiers
Maintain lower planing speed without constant throttle adjustments for wakeboarding, tubing or beginning skiers
Less bow rise for better visibility and increased safely
Simple 15-minute installation; hardware included.
Doel-fin is designed for use with small motors, big motors, and inflatable dinghies. Boats with small motors no longer "porpoise" with the bow-up when the throttle is applied and achieve planing at lower engine speeds. Big motors benefit from less stern suction, faster planing times and steadier turns. All boats gain-increased fuel efficiency.
Top Questions about Doel-Fin
Q. How does Doel-Fin work? It uses the same principle as airplane wings.Water flows over the wing creates lift in the stern and compensates for motor weight. Doel-Fin will "calm the boat down" in rough water and eliminate the bow-high position that is common when accelerating—a dangerous slow speed characteristic of most boats.
Q. Does Doel-Fin affect steering? A positive effect is enjoyed due to the increased stern lift compensating for motor weight. This creates a feeling like "power steering", smoothes out the turns and reduces cavitation in tight turns.
Q. How about pulling water skiers? Faster out-of-the-hole times and lower planing speeds make for happier skiers.Wakeboarding, tubing and slow speed water skiing is made easier, too. Beginning water skiers, especially children just learning to ski, will appreciate Doel-Fin's slow speed planing performance improvement.
Q. Can I use it with power trim? Doel-Fin enhances the effects of power trim.Your boat will respond quicker to changing trim angles, making power trim more effective.
Q. How do I know it will fit my motor? Doel-Fin fits all outboard and stern drive motors from 5 horsepower except Volvo Penta® outdrives
Q. How do I know Doel-Fin is working on my boat? There will be no doubt! An instant increase in performance is unconditionally guaranteed or your money back.You can expect fuel savings from 10-50%, with the average being around 30%.
Part Numbers for Davis Instruments Doelfin Hydrofoil - 440