C.S. Johnson Tubular Turnbuckle Jaw to Jaw/Locking Rings - 07-110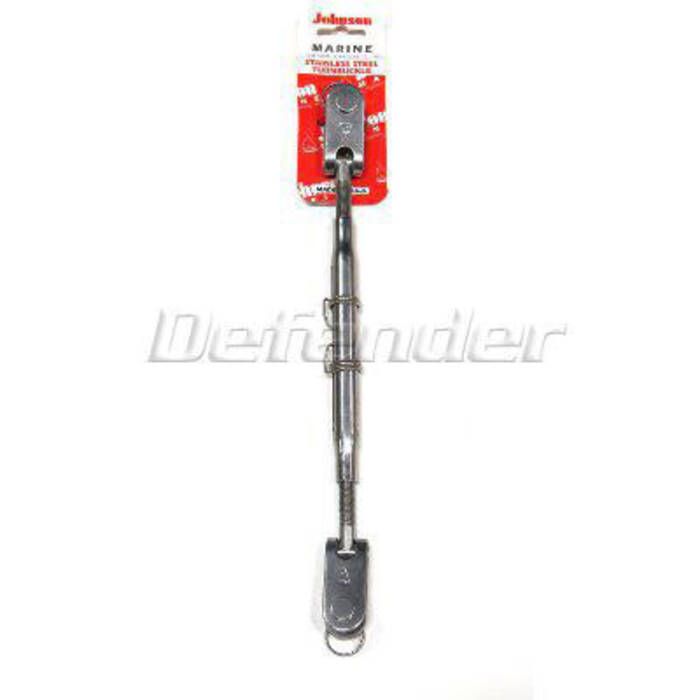 C.S. Johnson Tubular Turnbuckle Jaw to Jaw/Locking Rings - 07-110
Item # 863675
Description
The C.S. Johnson Positive Lock, Stainless Steel, Tubular Jaw to Jaw Turnbuckle (07-110) is equiped with locking rings instead of cotter pins to secure it. The primary benefits include, rings are harder to lose than cotter pins and they won't shred your legs or sails the way cotter pins can.
Features:
Tubular jaw to jaw turnbuckle
Locking rings instead of cotter pins

They are captive and cannot be lost overboard
There are no pointed or rough ends to snag sails or shins

Jaw have "T" toggle construction
Specifications:
Type: Jaw to Jaw
Wire Diameter Up to 3/16"
Pin Diameter: 5/16"
Thread Size: 5/16"-24
Breading load: 4000 lbs
Safe Working Load: 1600 lbs
Pin to Pin Length Open: 11-5/8"
Pin to Pin Length Closed: 8-1/2"
Body Length: 5-1/8"
Part Numbers for C.S. Johnson Tubular Turnbuckle Jaw to Jaw/Locking Rings - 07-110