C.S. Johnson Life Line Tubular Turnbuckle with Splicing Eye - LS-1900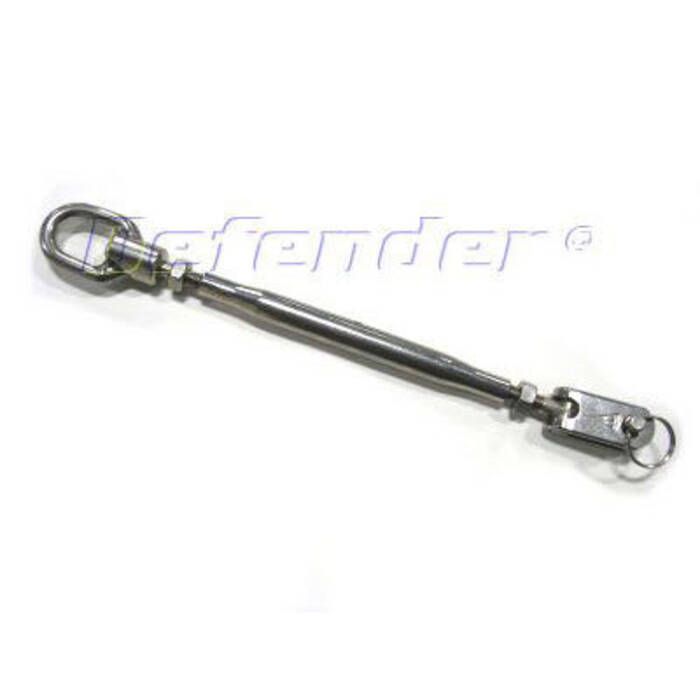 C.S. Johnson Life Line Tubular Turnbuckle with Splicing Eye - LS-1900
Item # 863590
Description
The C.S. Johnson LS-1900 Stainless Steel Tubular Turnbuckle with Splicing Eye is designed to be used with Dyneema line for a life line. The attachment point is a "T" bolt style jaw with 1/4" pin size. Adjustments are easily made via the cross-hole in the center of the turnbuckle. Secure locking is achieved with two check nuts on either side of the turnbuckle body. All components are USA MADE from type marine grade stainless steel.
Features:
Turnbuckle with splicing eye and lifeline fitting
For use with 8 mm Dyneema (Amsteel) line
This line is a 12 strand single braid, 1/7th the weight of 1/4" 1x19 cable, offering the same strength at about the same cost
Closed body
Check nut locking turnbuckle
Type 316 stainless steel body and ends
Johnson recommends changing out the line at 3 year intervals
Professional splicing recommended
Specifications:
8 mm Dyneema Line
Body style: Closed
Material: Tubular type 316 stainless steel body and ends
Pins: 1/4"
Adjustment range: 3"
Part Numbers for C.S. Johnson Life Line Tubular Turnbuckle with Splicing Eye - LS-1900