BoatNumberPlate Registration Plates for Inflatable Boats - BNPREG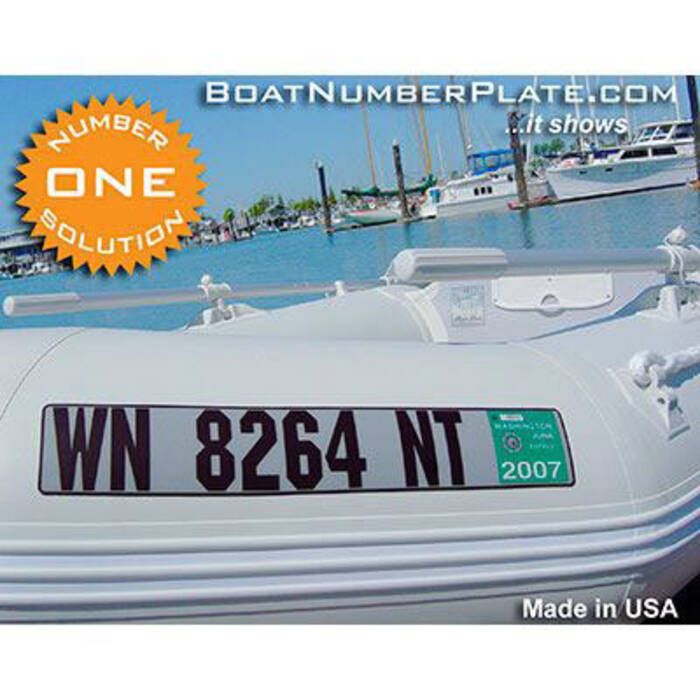 BoatNumberPlate Registration Plates for Inflatable Boats - BNPREG
Item # 862893
Description
Getting Custom, One-Piece Registration Number Plates for your boat is as easy as:
1. Purchase your personal pre-paid code package directly from Defender (one package is good for a port and starboard set)
2. Redeem your pre-paid code online at www.BoatNumberPlate.com
Features:
Inside each pre-paid code package is a unique user name and password which you enter online
Registration decals for fiberglass, wood, or PWC Rigid hull are clear and designed to contrast against your hull color
You supply your registration number, and lettering color (specify black or white)
Boat number plate approximate dimensions: 3.5" x 21"
Notes:
Plate requires proper adhesive (PVC and Hypalon glue not included, sold separately )
Actual registration is not included
Dimensions vary based on individual state/country requirements for decal/letter size and spacing. Verify your dimensional requirements when ordering
Codes are shipped to you along with instructions and warranty information. Codes cannot be e-mailed at this time. This item is a unique Prepaid Access Code to be redeemed on www.BoatNumberPlate.com for your custom Registration Number Plate. A clamshell package with code, password, instructions and warranty info will be shipped from Defender when you place your order. BoatNumberPlate will manufacture and ship your custom Registration Number Plate that you order using the code
Part Numbers for BoatNumberPlate Registration Plates for Inflatable Boats - BNPREG