Blue Sea C-Series ELCI Main Residual Current Rocker Circuit Breaker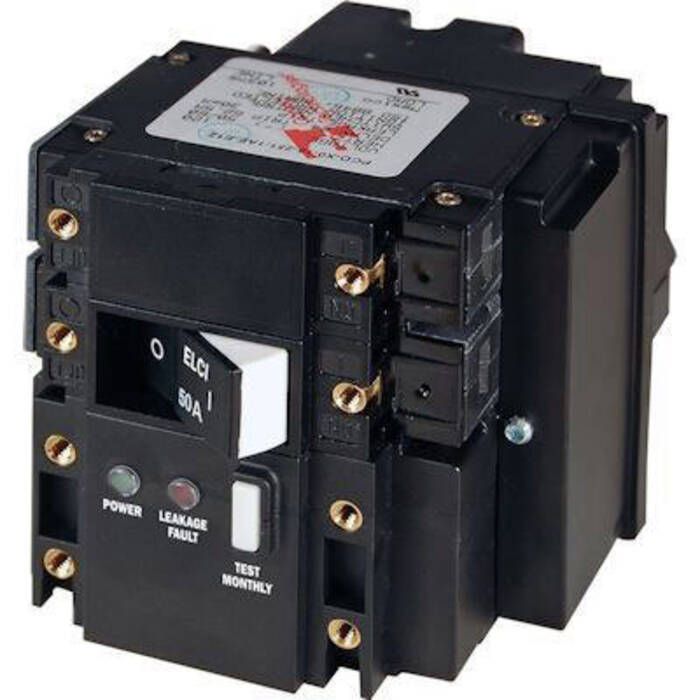 Blue Sea C-Series ELCI Main Residual Current Rocker Circuit Breaker
Item # 922978
Description
The Blue Sea A-Series ELCI Main Residual Current Toggle Circuit Breaker provides whole boat AC circuit protection. ELCIs are part of a larger family of devices that measure current flow in the hot and neutral wires and immediately switch the electricity off if an imbalance of current flow is detected. ELCIs that are also Residual Current Circuit Breakers (RCBO) provide overcurrent tripping protection characteristic of a normal circuit breaker. Installed as required, within 10' of the shore power inlet, an ELCI provides 30mA ground fault protection for the entire AC shore power system beyond the ELCI.
Features:
Provides whole boat AC circuit protection
Trips on short circuit, overload, or leakage to ground
Front panel mount - installed in a power distribution panel
Specifications:
Actuator Style: Flat rocker
Number of Poles: 2
Ignition Protected: Yes
Circuit Breaker Type: Magnetic Hydraulic - trip free
Interrupt Capacity: 5000 A
Minimum Operating Temperature: -35° C
Maximum Operating Temperature: 66° C
Leakage Trip Amps: 30mA
Mounting Screws: #6-32 Stainless steel
Mounting Screw Torque: 6 in-lbs. (0.68 Nm)
Switching Cycles: 10000
Weight: 0.85 lbs (0.39 kg)
WARNING
---
This product can expose you to chemicals which are known to the State of California to cause cancer, birth defects or other reproductive harm.
For more information go to www.p65warnings.ca.gov.
Part Numbers for Blue Sea C-Series ELCI Main Residual Current Rocker Circuit Breaker