Bennett BOLT Electric Trim Tab System - BOLT1212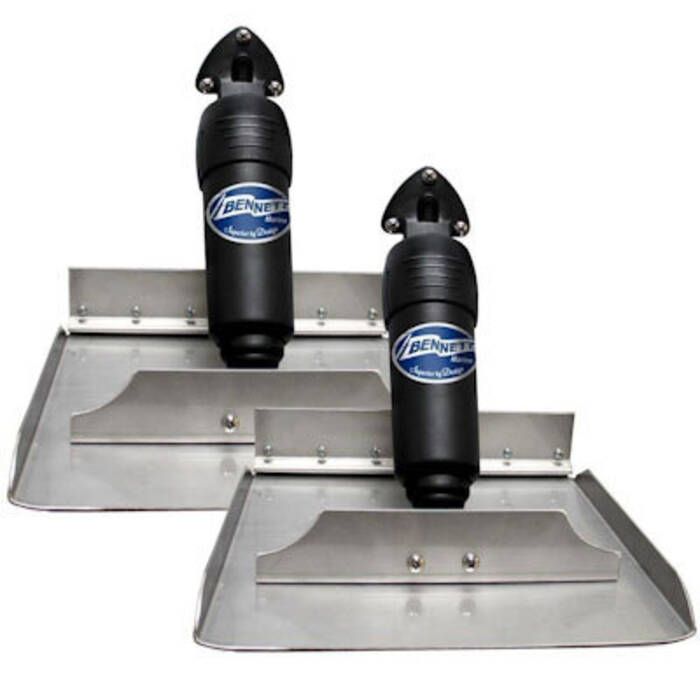 Bennett BOLT Electric Trim Tab System - BOLT1212
Item # 861959
Description
The BOLT Electric Trim Tab System combines cutting-edge technology with a robust and water-tight actuator. This resolves the issues that older systems have with breaking apart and water intrusion caused by design flaws and marine growth.
BOLT Electric Trim Tab System Features:
Electric Trim Tab Systems for boats between 19 and 24 feet
Maximize performance while smoothing out the ride
Lifting the stern in proportion to speed, weight distribution, and fuel load changes:
Enables you to plane at a much lower speed which improves running inefficiently and saves money
Increases operator's sight lines which make for a safer ride, especially in congested waters or foul weather
Single actuator per tab - Bennett does not recommend two electric actuators per tab because they cannot be synchronized
Robust, water-tight black nylon actuator
Main seal located high to protect against marine growth and water intrusion failures
Quieter than other systems on the market
Installation is fast - no need to disassemble parts of the actuator
No wires exposed to the marine environment - wires are concealed and protected through the upper hinge
Limited Lifetime Warranty
Requires Helm Control (sold seperately)
Specifications:
Trim Tab Plane Dimensions: 12" x 12"
Power: 12V DC
Current Draw: Up to 20 Amps
Materials:

Trim Tab Planes & Mounting Plates: 304 Stainless Steel
Actuators: Upper hinge material made of flexible nylon. Remainder of actuator is made of high impact fiberglass-filled nylon
The BOLT Electric Trim Tab System Includes:
(2) 12-volt actuators with 6 foot wire harnesses with waterproof connectors
(2) Stainless steel trim panes and mounting plates
20 foot harness with (2) waterproof connectors
Helm Control is Required - (Sold Seperately)
Helm Control Options: (Sold Separately)
BRC - BOLT Rocker Switch for BOLT (BRC4000):

Basic rocker switch control allows you to independently raise or lower the port and starboard trim tabs

BCN - BOLT Control for BOLT Electric Trim Tabs Systems (BCN6000):

Incorporates Rocker Switch control and Auto Tab Retraction (ATR) into one helm control - just turn off your ignition switch and your tabs automatically retract

BCI - BOLT BCI8000 Control for BOLT Electric Trim Tab Systems (BCI8000):

Combines three features into one compact control — Rocker switch control, trim tab position indicator and Auto Tab Retractor
Note: Image does not represent the true dimensions of the trim tab.
Note: (SALTWATER ONLY) To lower electrolysis, a zinc anode should be attached to the top of each trim tab. Zinc must make direct contact with stainless steel. Do not paint zinc. Do not ground trim tabs to other underwater appendages
Note: These sizing recommendations are based on average performance. Your choice may vary based on power, engine configuration, weight distribution, type of boat, and use. The greater the surface area, angle of deflection and/or speed of the water flowing under the trim tab, the greater the lift. When making a choice between trim tab sizes, remember that the largest trim tabs that will comfortably fit on the transom will be the most efficient. As a rule, choose at least one inch of trim tab span (per side) for every foot of boat length. (Example: 22 foot boat = no less than 24" x 9").
WARNING
---
This product can expose you to chemicals which are known to the State of California to cause cancer, birth defects or other reproductive harm.
For more information go to www.p65warnings.ca.gov.
Part Numbers for Bennett BOLT Electric Trim Tab System - BOLT1212