Beckson Siphon Mate Specialty Transfer Pump - 109PC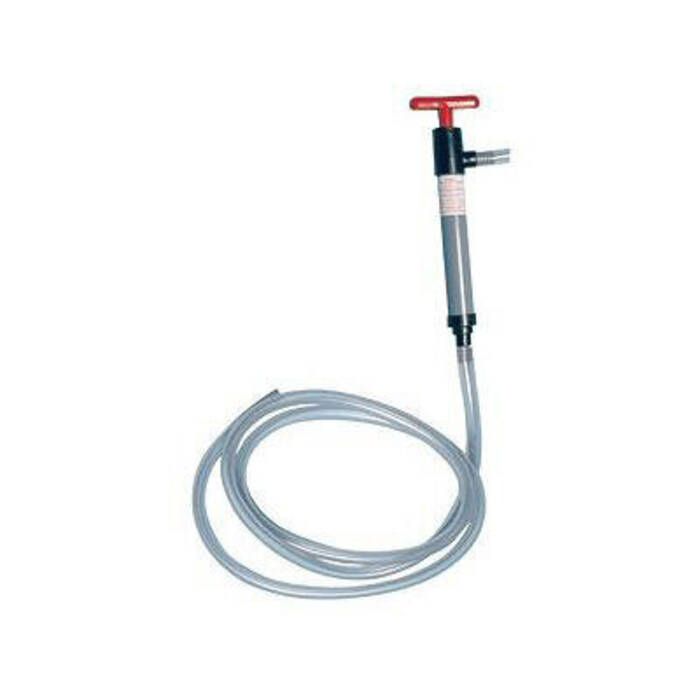 Beckson Siphon Mate Specialty Transfer Pump - 109PC
Item # 861935
Description
This Specialty Transfer Pump is a combination of a displacement lift pump and a siphon pump with valves suitable for transferring fuel. Fully extending handle allows siphoning so long as the course is higher than the receptacle. Safety experts caution against the unsafe practice of siphoning petroleum by mouth, warning specially, that it can result in loss of life. Beckson's answer is the patented Siphon-Mate® pump.
Features:
Combination displacement lift pump and siphon pump with valves suitable for transferring fuel
Pump half strokes to start flow
Once flow begins, fully extending the handle will allow siphoning provided that the source is higher in elevation than the receptacle
Use for Diesel, Oil or Water
Length: 11 1/2" (28.4cm)
Diameter: 1 1/4" (32mm)
Lifts: 4 oz (0.12 L) per stroke
Supplied with clear tubing to allow versatile application
Cut tubing for desired length of intake and discharge hose
Notes:
When finished siphoning or pumping flammable liquids, be sure to drain siphon pump of liquid before storing
This pump not intended for transfer of liquid over 120° F (49'° C) nor solvents that will attack PVC
This Pump is Not designed for the transfer of Gasoline
Note: SAFETY USAGE GUIDE FOR FLAMMABLE LIQUIDS FOR YOUR PROTECTION - DO NOT BE A STATISTIC Please be careful. The major dangers in storing or handling flammable liquids are those of fire and explosion. Containers should be grounded if made of conductive material and should not be near sources of sparks, open flames or hot surfaces. The container should be kept in an area where spillage (liquid or vapors) will not flow to an ignition source. DO NOT ALLOW SMOKING IN THE AREA. Be sure to provide adequate ventilation to prevent concentration of fumes. Remember, fumes of flammable liquids are highly explosive. Fire extinguishers of proper type to handle Class B fires and of proper size and quantity to handle the potential hazard should be readily available. Water is generally not suitable as an extinguisher of a Class B fire. Ensure means of safe disposal of any spillage before transferring. Liquids should only be transferred to an appropriate tank. If such a container is conductive then it should be connected to the container with a grounding strap to prevent static electric spark. Guidelines for handling flammable liquids can be obtained from the National Fire Protection Agency, Batterymarch Park, Quincy, MA 02269
WARNING
---
This product can expose you to chemicals including di(2-ethylhexyl)phthalate (DEHP) which are known to the State of California to cause cancer, birth defects or other reproductive harm.
For more information go to www.p65warnings.ca.gov.
Part Numbers for Beckson Siphon Mate Specialty Transfer Pump - 109PC