Barton Size 1 Removeable Ball Bearing Traveler Kit with Cleats - 20910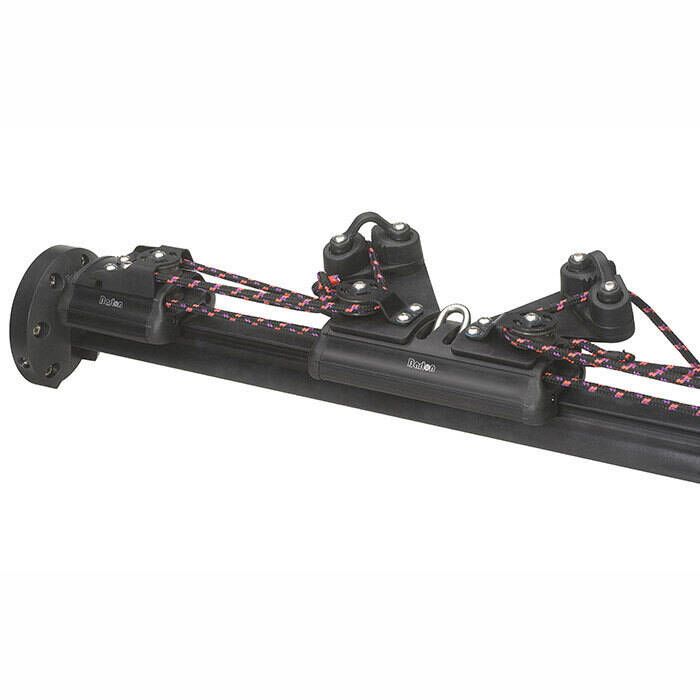 Barton Size 1 Removeable Ball Bearing Traveler Kit with Cleats - 20910
Item # 861734
Description
The Barton Size 1 Removeable Ball Bearing Traveler system with cleats is a pre-packaged mainsheet system with all components required in one complete kit. This includes the sliding bolt track, traveler, end fittings, plastic end caps, pilot track and full fitting instructions.
This adaptable mainsheet track system is designed to span between the cockpit seats when sailing but is easily removable to ensure cockpit space is not compromised when you want to relax on board. The track has a maximum unsupported length of up to 700mm (28in). It can be attached and removed in seconds and uses Barton's beam section track.
Fitting Barton Marine's new removable track couldn't be simpler; end plates are bolted either side of the cockpit, on the cockpit wall, the track is then slid under these plates and lifted vertically which automatically lock it in position. To remove the mainsheet track you just push in the locking pin on either side, lower the track and slide it out of the way.
Features:
Travelers, end fittings and track are all extruded from top quality marine grade aluminum
Finished in unique 'Spectro' grey anodized finish
Sliding bolt track allows for a smooth, clean profile and also makes retro-fitting easier
Bolts can be slid along the extrusion to match existing fastening holes
Sized for yachts up to 8.5m LOA (28.5 ft.)
4:1 Purchase system
Recirculating precision ground Delrin ball bearing system
Specifications:
Kit Size: 1
Maximum Boat Size: 28.5 ft.
Track Width: 20mm
Track Length: 1.4m
Maximum Control Line Diameter: 6mm
Purchase: 4:1
Safe Working Load: 500Kg
Fastener Size: 5mm
Notes:
Complete pack kits are not suitable for open span applications as they require beam section track
Suggested boat sizes are given as guidance only and assume a monohull with boom end sheeting, loaded vertically to the traveler
Mid-boom sheeting and severely angled take offs can impose greater loads and suitable allowances should be made for this. If at all unsure of your choice it is important to seek further advice
If you are close to the maximum boat size suggested, we would advise upgrading to the next size up
Part Numbers for Barton Size 1 Removeable Ball Bearing Traveler Kit with Cleats - 20910