Balmar XT Series Single Foot Marine Alternator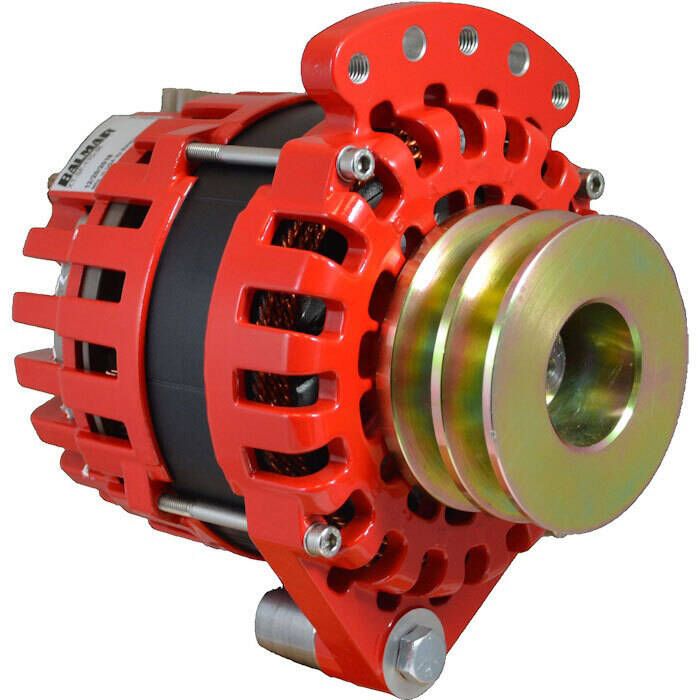 Balmar XT Series Single Foot Marine Alternator
Item # 861659
Description
Balmar is replacing the AT-Series alternator family with its XT-Series products. The XT-Series is drop-in compatible with the AT-Series and it provides slightly better performance than the AT-Series. Balmar XT-Series alternators provide maximum charging power in a small case package, suitable for installation in most small-to-medium sized diesel engines and most GM-based 4.3 liter to 8.1 liter gasoline engines.
Features:
12V DC
170 Amps in a small case package
Provides up to 140 amps at idle speeds
Designed for recreational marine applications
Engineered to replace most OEM alternators
Multiple pulley types available
Ideal for modest charging upgrades
State-of-the-art, braided stator wire design to generate exceptional output in the smallest possible area
Operates 5°-10° C cooler than AT-Series
May require a Tachometer Signal Stabilizer (Part No. 15-TSS; Sold separately) if your current tach is not adjustable
Should only be used in Dual Vee or Multi-groove serpentine belt configurations
AltMount® Serpentine Pulley Conversion Kits support all XT-Series alternators
Smart Ready® internal regulator technology provides an additional level of fault tolerance for cruising boaters
Dual fan cooling
High airflow frame
Ideal for large battery banks
Approvals: USCG Title 33, CE, ISO 8846 and SAE J1171 certified
Note: Regulator, battery/alternator temp sensors & harness are sold separately.
Pulley Designations:
"DV" = 1/2" Dual Vee
"K6" = K6 Serpentine
"J10" = J10 Serpentine
The selection process includes the following steps:
Step 1: Determine your vessel's electrical load
Step 2: Identify your existing battery bank technology and capacity
Step 3: Select your optimum alternator output
Step 4: Identify the alternator mounting style present on your engine
Step 5: Determine your belt and pulley requirements
Step 6: Select additional charging system options
Specifications:
Voltage: 12 VDC
Output: 170 Amps
Pulley designation: Select
Mount: Single foot
Belt sizes: 3/8" and 7/16"
Cooling: Dual fan
High airflow frame
Maximum RPM: 12,000
USCG Title 33, ISO, SAE and CE compliant
Part Numbers for Balmar XT Series Single Foot Marine Alternator