Balmar SmartLink Battery Monitor Kit - SG200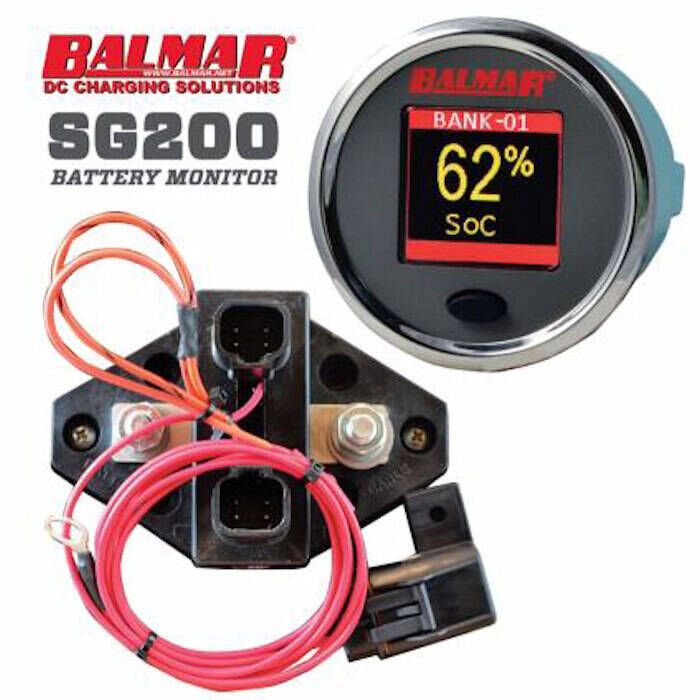 Balmar SmartLink Battery Monitor Kit - SG200
Item # 861645
Description
The Balmar SmartLink Battery Monitor Kit (SG200) is quite simply the most accurate battery monitor available today. Balmar has combined the best features of its 1st generation Smartgauge™ with many advantages of a shunt-based amp-hour counting system.
Further, Balmar designed a device architecture with the option of multiple displays or multiple SmartShunts to be daisy chained to the network, allowing the boater to monitor multiple energy storage banks simultaneously from multiple locations.
In addition, the SG200 Color Display is easy to read, configurable and fits any standard 2 1/16" gauge socket.
Now you can determine your battery(s) condition from anywhere on the vessel or vehicle with multiple Displays, or simply add the optional Bluetooth® Smartphone App to keep information in your pocket!
Features:
Learns and displays all critical battery parameters

State of Charge (SoC%): Accurate display of your battery's State of Charge after just two discharge cycles
State of Health (SoH%): Proprietary self-calibrating algorithm determines how your battery has aged from its original capacity
Charge/Discharge Amps: Displays the real-time current flowing in or out of your house battery
Time Remaining: Time remaining until empty when discharging, or time remaining until full when charging
Current flow
History, faults and alerts

Balmar's Expandable, Next Generation Monitor

Expandable Architecture
Support Multiple Displays (Optional)
Supports Multiple Battery Banks (Optional)
Standard Support for 2 Start Batteries (Voltage Only)
Simple, easy-to-install Point-to-Point Network

Build your own battery monitoring network
Add color displays for viewing data in different locations
All battery information can be displayed anywhere on the SmartLink Network
For additional flexibility, purchase the optional Bluetooth® Gateway and download Balmar's Smartphone App
Add SmartShunts (Extras Sold Separately) if you have multiple banks: Stern thruster Bow thruster House bank #2

Support for all common battery chemistries and voltages including:

Lead Acid
Lithium (LiFePO4)
Standard AGM, TPPL
AGM Carbon
AGM Foam
GEL Batteries

Supports 12V - 48V Battery Banks
Typically 97% accurate within 2 cycles
Auto-Calibrating does not Lose accuracy with age
Large, bright color display
Sunlight Readable
Configurable and dimmable
60 Degree viewing
Angle Fits in standard 2 1/16" gauge socket
Specifications:
Monitors

State of charge (SoC%)
State of health (SoH%)
Charge/Discharge
Current flow
Time remaining
History, faults & alerts

Standard Configuration:

1 Bank per SmartShunt Device
2 Start/Auxiliary Voltage Sense Lines (Up to 32 devices including Displays and SmartShunts can be added to a single network)

Color Display Dimensions:

Bezel Diameter: 2.37 (60 mm)
Base Diameter: 2.05 (52 mm)
Depth with Attachment Cable: 2.75 (70 mm)

Supply Voltage Range: 8 - 60V DC
Average Supply Current:

Display On: 20 mA @ 12V DC
Sleep Mode: 10 mA @ 12V DC

SmartShunt Operating Temperature: -40oC to +85oC (-40oF to +185oF)
SmartShunt Max Current:

600A Instantaneous (10 minutes @ ambient)
350A Continuous (For Higher Currents Consult User Manual)

SmartShunt Dimensions:

Length: 4.87" (123.7 mm)
Width: 3.34" (84.8 mm)
Height: 2.01" (50.9 mm)

Max Ah Capacity: 1250 Ah (per SmartShunt)
Communications Cable:

4 wire, 22 AWG, Shielded
4 pin Deutsch DT Style

Grounding: Negative Battery Connection
Protection Rating:

IP65 (Display)
IP67 (SmartShunt)

Mount: The SmartShunt should be mounted to a firm surface in a dry location
Standards Compliance: CE EMC Directive 2014/30/EU ROHS 2 Directive 2011/65/EU
In the Box:
1 SmartShunt, with 60" fused wire positive wire
1 Color Display (1) Display mounting bracket and nut
1 10m SmartLink Cable
1 SmartLink Deutsch-style connector kit, with a connector and wedge lock
1 Fuse for positive wire
1 Owner's manual
Note: Optional Smartphone/Bluetooth® Gateway - Free iOS and Android Apps (Requires Bluetooth® Gateway PN SG2-0300). View All Parameters on your Phone Download Product Updates.
Part Numbers for Balmar SmartLink Battery Monitor Kit - SG200